Run to Win: Lessons in Leadership for Women Changing the World (Hardcover)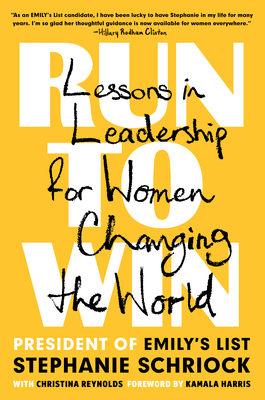 $27.00

Special Order - Subject to Availability
Description
---
"I have long believed that women who dream big, work hard, and get back up after they get knocked down can do anything; Stephanie Schriock is one of those women. I'm so glad her thoughtful guidance is now available for women everywhere."—Hillary Rodham Clinton
 
"Stephanie Schriock leads the leaders."—Michelle Lujan Grisham, governor of New Mexico
 
"Run to Win is an antidote to anxiety and a welcome call to action. I encourage every woman (and a few good men) to dive into Run to Win and take your turn at saving the world."—Stacey Abrams

From the president of EMILY's List, a playbook for women changing the world in politics, business, or any arena, with a foreword from Vice President Elect Kamala Harris. 

For the past thirty-five years EMILY's List has helped the campaigns of thousands of pro-choice Democratic women, but the hardest part has always been convincing more women to run. Then Donald Trump was elected, and something shifted into place. American women who were furious and frustrated were looking for a way to channel their outrage into action, united in proclaiming, "If that guy can get elected, why not me?"

The day after the 2016 election, dozens of women searched out an old sign-up link buried on the EMILY's List website. By Thanksgiving, those dozens had grown to a few thousand. And that was only the beginning. By the end of 2018, there were nearly fifty thousand women signed up to run for office, with scores more signing up each day.

Run to Win is for all women who are looking to lead. Organized around the steps that EMILY's List coaches its candidates through (from deciding to run through celebrating victory), this book is full of essential lessons for any woman trying to succeed in a male-dominated field. Their arena is politics but their message is universal.

And Stephanie Schriock is the most qualified person to share these lessons. Not only is she a powerful figure in politics but she's also a woman who commands respect for her astounding success as president of EMILY's List and a longtime Democratic operative. Her message is uplifting and actionable, her voice is that of your best girlfriend walking you through what you need to consider as you make your plan, and her experience coaching the biggest female candidates in recent elections (including all of the female 2020 Democratic presidential candidates) makes her the de facto authority on the strategies women can employ to run, fight, and win, whatever their field or goal.
About the Author
---
Raised in the copper-mining town of Butte, Montana, Stephanie Schriock has been working to get Democrats elected for twenty-five years. Since Schriock became president of EMILY's List in 2010, she has overseen a decade of phenomenal growth in the organization, raising hundreds of millions of dollars, helping elect record numbers of women to the House and Senate, and recruiting and training hundreds more. EMILY's List is now nearly five million members strong.

Christina Reynolds grew up in and around Marine bases across the country but considers herself a Tar Heel. For two decades she has worked for Democratic officials, from five presidential campaigns to Democratic campaign committees to the Obama White House. She currently serves as the vice president of communications for EMILY's List.
Praise For…
---
An Amazon Best Nonfiction Book of the Month 
10 Books to Pick Up for a Better 2021—San Francisco Chronicle
A 2021 Book to Pre-Order and Thank Yourself Later—Marie Claire

Praise for Run to Win:
"I have long believed that women who dream big, work hard, and get back up after they get knocked down can do anything; Stephanie Schriock is one of those women. Now, she's using her story and the stories of many other inspiring women to help light the path forward for us all. As an EMILY's List candidate, I have been lucky to have Stephanie in my life for many years. I'm so glad her thoughtful guidance is now available for women everywhere."
—Hillary Rodham Clinton, the first woman in US history to become the presidential nominee of a major political party and #1 New York Times bestselling author of What Happened
 
"Run to Win is the pep talk you didn't know you needed from 'Coach Stephanie.' Whether you're considering running for office, taking on a problem in your community, or thinking about making a change in your own life, this book is full of practical advice and inspiring stories to help you ignore the haters and get the job done. Stephanie does a masterful job of demystifying electoral politics, sharing the challenges and joys of standing up for what you believe, and celebrating brave women who are taking the world by storm."
—Cecile Richards, Co-founder of Supermajority and former president of Planned Parenthood Federation of America and New York Times bestselling author of Make Trouble

"In an age when the consequences of silence have rarely seemed more dire, Run to Win is an antidote to anxiety and a welcome call to action. Stephanie Schriock blends hard-nosed political know-how and her relentless faith in our democracy to guide women through the obstacles and opportunities of elective office. Run to Win demystifies how to tackle the challenges of campaigns, using authentic voices to welcome readers with honesty, compassion and humor. As one of the women who has benefited from Stephanie's insights and tenacity, I encourage every woman (and a few good men) to dive into Run to Win and take your turn at saving the world."
—Stacey Abrams, Founder of Fair Fight, Fair Count and the Southern Economic Advancement Project, Former Minority Leader in Georgia House of Representatives, New York Times bestselling author of Our Time Is Now
 
"Strong women can change the world — and in Run to Win, Stephanie Schriock gives them an instruction manual for how to do just that. The book is a front row seat to her experience winning tough campaigns and helping hundreds of women get elected, full of great stories and lessons that we can all use. These are the marching orders we need in these challenging times."
—Chelsea Handler, #1 New York Times bestselling author of Life Will Be the Death of Me, activist and co-chair of EMILY's List Creative Council 
 
"Stephanie's work at EMILY's List has change the face of politics by helping to elect countless women leaders who have enabled us to have a bigger voice in critical debates that affect all of our lives.   I too have worked in fields dominated by men for much of my career and I wish I could have had the benefit of these pearls of wisdom decades ago.   This book will help every woman who is trying to improve her industry, community and her own life."
—Valerie Jarrett, New York Times bestselling author of Finding My Voice and senior advisor to President Barack Obama

"Stephanie Schriock leads the leaders, and her work has inspired a generation of women, and their success is a beacon to the next generation and the generation beyond that. Run to Win is more than a valuable roadmap for a successful political campaign; the lessons within are applicable to any woman in any field with designs on leadership and questions about how to get there."
—Michelle Lujan Grisham, governor of New Mexico, the first Democratic Latina to ever be elected as chief executive of a U.S. state
 
"Stephanie Schriock's impact on the historic number of women who were sworn in to the 116th Congress is undeniable, and this book is a testament to how women continue to take a stand and win elections. Any woman thinking about running for office should add Run to Win to their list of instruction manuals and kitchen-tested recipes for success. Stephanie's winning strategies for Democrats across the country and her push to make EMILY's List the premier organization for any woman even thinking about running give her the clout and status to advise, guide, and unite us for elections to come."
—Deb Haaland, U.S. Representative from New Mexico's first district, one of the first Native American women elected to Congress

"Running for office is not magical.  It takes commitment and determination, some hard work and know-how.  In Run to Win, Stephanie Schriock shows women how to run and how to win.  She shares the stories of determined women who decided to run and celebrated victory. Some are household names, some are less known-- but all are inspiring.
 
If you're considering becoming a candidate for elected office or just want to know more about how women were elected, Run to Win is the book for you!" 
—Ellen Malcolm, founder of EMILY's List

"An accessible guide to running for office… Schriock explains best practices for campaign fund-raising, how to move forward after a loss, and how to keep a campaign team happy and committed to the cause… women contemplating a political career will appreciate her comprehensive and easy-to-follow advice."—Publishers Weekly

"Consider this an invitation to change the world, even in the smallest of ways...Inspiration is here, on every page, and though Schriock and co-author Reynolds insist that this is no how-to tome, it plainly and clearly identifies what's needed, emotionally andphysically, to run for office."—Booklist

"While this book by the president of EMILY's List centers on politics, it's jam-packed with lessons and tools that'll help any woman in a male-dominated industry. It also contains words by Vice President Elect Kamala Harris who knows a *bit* about winning in a generally unwelcoming environment."—Cosmopolitan