The Rock That Is Higher: Story as Truth (Paperback)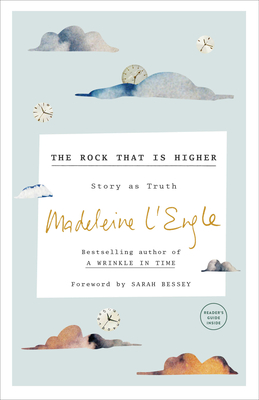 Description
---
We are all strangers in a strange land, longing for home, but not quite knowing what or where home is. We glimpse it sometimes in our dreams, or as we turn a corner, and suddenly there is a strange, sweet familiarity that vanishes almost as soon as it comes… –Madeleine L'Engle, from The Rock That Is Higher

Story captures our hearts and feeds our imaginations. It reminds us who we are and where we came from. Story gives meaning and direction to our lives as we learn to see it as an affirmation of God's love and truth–an acknowledgment of our longing for a rock in the midst of life's wilderness.

Drawing upon her own experiences, well-known tales in literature, and selected narratives from Scripture, Madeleine L'Engle gently leads the way into the glorious world of story in The Rock That Is Higher. Here she acknowledges universal human longings and considers how literature, Scripture, personal stories, and life experiences all point us toward our true home.
About the Author
---
Madeleine L'Engle was the author of more than forty-five books for all ages, among them the beloved A Wrinkle in Time, awarded the Newbery Medal; A Ring of Endless Light, a Newbery Honor Book; A Swiftly Tilting Planet, winner of the American Book Award; and the Austin family series of which Troubling a Star is the fifth book. L'Engle was named the 1998 recipient of the Margaret A. Edwards award, honoring her lifetime contribution in writing for teens.

Ms. L'Engle was born in 1918 in New York City. She wrote her first book, The Small Rain, while touring with Eva Le Gallienne in Uncle Harry. She met Hugh Franklin, to whom she was married until his death in 1986, while they were rehearsing The Cherry Orchard, and they were married on tour during a run of The Joyous Season, starring Ethel Barrymore.

Ms. L'Engle retired from the stage after her marriage, and the Franklins moved to northwest Connecticut and opened a general store. After a decade in Connecticut, the family returned to New York.

After splitting her time between New York City and Connecticut and acting as the librarian and writer-in-residence at the Cathedral of St. John the Divine, Madeleine L'Engle died on September 7, 2007 at the age of 88.