Gun Love: A Novel (Hardcover)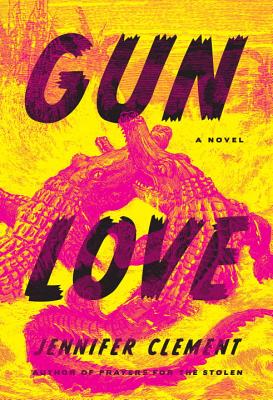 $25.00
Email or call for price.
Staff Reviews
---
Gun Love is an unforgettable love story of a daughter for her mother, a mother in love with her dreams and a town in love with firearms. Margot and her daughter Pearl live in their '94 Mercury outside of a trailer park in the middle-of-nowhere Florida. Despite their homelessness, they've created close bonds with their neighbors. But those bonds are tested when a shocking series of events unfold. Told from the viewpoint of 14-year-old Pearl, Clement shows the many sides to gun-ownership: those hunting for sport, those just trying to protect their families and those with nefarious intent. But it is also a story of family—the ones we are born into and the ones we create. Tenderhearted, haunting and lyrical, I read Gun Love in one day; and I wish I could go back and read it again for the first time. — From Michelle's Picks (page 3)
Description
---
LONGLISTED FOR THE NATIONAL BOOK AWARD • "Fortified with wit and tenderness . . . Gun Love potently illuminates a puzzled land."—O: The Oprah Magazine

NAMED ONE OF THE TEN BEST FICTION BOOKS OF THE YEAR BY TIME • SHORTLISTED FOR THE ASPEN WORDS LITERARY PRIZE

The searing, unforgettable story of a young girl's resilience, by the award-winning author of Prayers for the Stolen

Pearl's mother took her away from her family just weeks after she was born, and drove off to central Florida determined to begin a new life for herself and her daughter--in the parking lot next to a trailer park. Pearl grew up in the front seat of their '94 Mercury, while her mother lived in the back. Despite their hardships, mother and daughter both adjusted to life, making friends with the residents of the trailers and creating a deep connection to each other. All around them, Florida is populated with gun owners--those hunting alligators for sport, those who want to protect their families, and those who create a sense of danger. 

Written in a gorgeous lyric all its own, Gun Love is the story of a tough but optimistic young woman growing up in contemporary America, in the midst of its harrowing love affair with firearms.
About the Author
---
JENNIFER CLEMENT is the author of multiple books, including Widow Basquiat. She was awarded an NEA Literature Fellowship and the Sara Curry Humanitarian Award for Prayers for the Stolen. The president of PEN International, she currently lives in Mexico City.
Praise For…
---
"Dreamy . . . as if to suggest the self-delusion of the real-life actors involved . . . the writing is crisp and the images sharp."—New York Times Book Review (Editors' Choice)

"Offer[s] a glimpse of what a poetics of gun violence might look like . . . In this book, the machinery of violence purchases a sense of belonging—of thrilling, life-or-death simplicity."—Katy Waldman, The New Yorker

"This book feel like a great lost murder ballad by the likes of Johnny Cash or Nick Cave. . . . There are echoes here of other great chroniclers of violence, such as Cormac McCarthy, and this is one of those rare books that the reader might wish to be a few dozen pages longer, to spend some more time in this fully realised world."—Alexander Larman, The Observer

"Through a memorable coming-of-age story set in America's margins, Clement makes all of these things true at once: A gun is a valentine, a secret-bearer, a penitent, a world destroyer, an exposed belly, an insurance policy, a sudden act of God."—Salon

"Clement creates a weird poetry of murderous force. Chekhov's narrative principle—that a gun hung on the wall in the first act must eventually go off—has become a metaphorical rule of storytelling. To reflect American reality, Ms Clement puts a gun on every wall in every room."—The Economist

"That this novel cast a deep spell on me that has yet to subside. Clement relays Pearl's trouble-strewn story in the kind of prose that gets called "poetic": it's taut, spare, musical, metaphor-laden, haunting, and every so often hits you so hard in the gut that you gasp."—Jonathan Miles, BookPage "What They're Reading"

"It's been a long time since I've been so mesmerized with a novel's each next sentence. Jennifer Clement is one of our most inventive novelists. There's no telling what she'll see. Whatever it is, it's something right in front of us, but—here is the magic trick—something we have never before seen. Gun Love is an amazement: fierce, inventive, tender."—Rick Bass

"Jennifer Clement is a master at creating worlds that feel like tiny dioramas —modern allegories, reflecting and responding to social issues while still feeling contained and mystical, like something you'd see inside of the world's most ornate snow globe, or a theme park — that is, until politics invade these worlds, and these worlds become recognizable as ones that exist both on and off the page."—Miami Rail Review

"Clement is a brilliant stylist; her figurative language is far more than fine; her metaphors and similes are superb; and together they create a haunting atmosphere—sometimes fey, occasionally whimsical, no stranger to tragedy but always heartfelt and spot-on, as are her beautifully realized, captivating characters. Though suigeneris, her work may remind some readers of Flannery O'Connor's. Always evocative, it is an unforgettable knockout not to be missed."— Booklist (starred)