Effin' Birds 2021 Wall Calendar: A Field Guide to Identification (Calendar)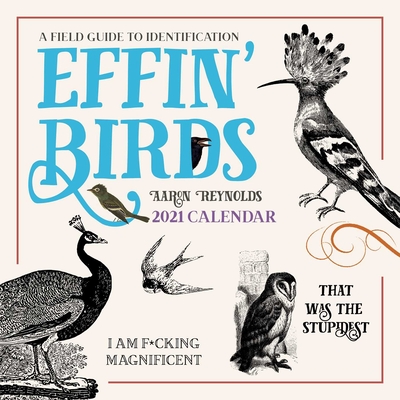 Description
---
The Effin' Birds wall calendar pairs vintage art of our fine feathered friends with the creative and clever expletives, profanities, and obscenities these silly birds use on a daily basis.
Each spread of this 12" x 12" wall calendar features some of the rudest birds on earth and their foul language, weird habits, and strange personalities that prompt them to say such hysterically awful things like, "If you have a point, I would love for you to fucking get to it," or "The correct answer is fuck off."  A must-have for any effin' birder.
Other features include:
Generous grids provide space to add appointments and reminders
Opens to 12 inches x 24 inches
Pre-planning spread for September–December 2020
Includes widely celebrated and nationally recognized holidays and observances
About the Author
---
AARON REYNOLDS is a humorist, professional speaker, and the man behind the @EffinBirds and @swear_trek Twitter accounts. When he's not on Twitter, you can find him producing a series of podcasts and at ComicCons dressed as George Lucas. He has been a baseball writer, a fine art printer, and a mall Santa Claus photographer. Aaron was raised in Mississauga, Canada, a suburb where they cut down all the trees and named the streets after them. He currently splits his time between Toronto and Ottawa.