Wild Words from Wild Women 2022 Day-to-Day Calendar (Calendar)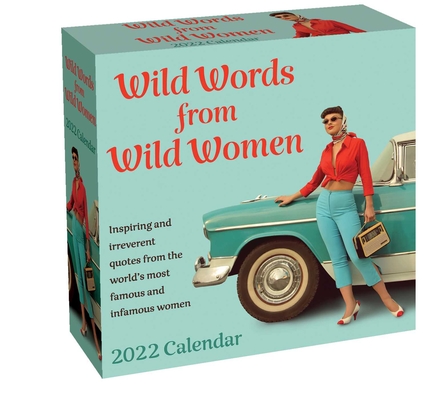 Description
---
Sassy and thought-provoking (but never boring!), each day of this humorous calendar provides quips and quotes on important topics for wild women everywhere.
With inspiring and irreverent words from some of the world's most famous women, this daily calendar contains funny and thought-provoking quotations on topics such as aging, success, relationships, politics, and more:
"Accessories can really boost a woman's self-confidence. For example, I know I would feel ten times sexier if I carried a sword with me at all times." —Not Even Emily, YouTube star
"There's a strong chance the next Bill Gates isn't going to look anything like the last one. So, I'm interested in finding solutions that will help ensure we recognize her when we see her." —Melinda Gates, Microsoft-bred philanthropist
"What this country needs is more unemployed politicians." —Angela Davis, life-long revolutionary
Features include:
Tear off full-color pages
Printed on FSC-certified paper with soy-based ink
Day/date reference on each page
Includes official major world holidays
Recyclable non-plastic backer for desk or tabletop display
About the Author
---
Autumn Stephens is the author of several books in the Wild Women series and editor or two anthologies of women's first-person essays, The Secret Lives of Lawfully Wedded Wives and Roar Softly and Carry a Great Lipstick. Her essays and reporting have appeared in The New York Times, the San Francisco Chronicle, and numerous other publications. Autumn teaches private writing classes and workshops in the San Francisco Bay Area, and her passions include solving the world's problems over coffee and reading in bed. She agrees with Lily Tomlin, who said that "things are going to get a lot worse before they get worse."