Hockey Doc: Stories on Fifty Years of Medical Care to the Montreal Canadiens (Paperback)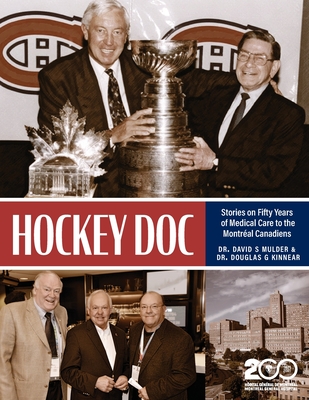 $26.99

Not Available In-Store - Usually Ships from Warehouse in 1-5 Days
Description
---
The Western Division of the Montreal General Hospital was so close to the Forum that Montr al Canadiens players could put on skate guards and walk to the hospital's emergency room. This was not a coincidence and established proximity as a priority.

Dr. Douglas Kinnear supported twelve Stanley Cup winning Montr al Canadiens squads as team physician. Dr. David Mulder has been on the medical staff for over fifty years and for eight Stanley Cups. In Hockey Doc, these two legendary team physicians explore the dynamic doctor player relationship they came to know so well with a look at more than fifty years of medical care provided to the hockey club.

Hockey Doc examines how the medical program for the Montr al Canadiens has evolved over its history due to its long-standing relationship with the MGH and the Molson family. The doctors breakdown major injuries with real-life examples that every team physician needs to be aware of and share career highlights. Featuring stories about Saku Koivu, Trent McCleary, Patrick Roy, Maurice Richard, Gump Worsley, Bobby Orr, Lou Lamoriello, and journalist Red Fisher - among countless others - Hockey Doc shares the inside jokes between doctor and player while providing a greater commentary on the evolution of sports medicine throughout two MGH doctors' careers.

For hockey fans of all ages and the Qu bec medical community, Hockey Doc shares the relationship between the injured professional athlete and the medical staff of a university medical centre and provides an inside look at the injuries and illnesses these doctors have faced over their storied careers.