Brown Girl Like Me: The Essential Guidebook and Manifesto for South Asian Girls and Women (Hardcover)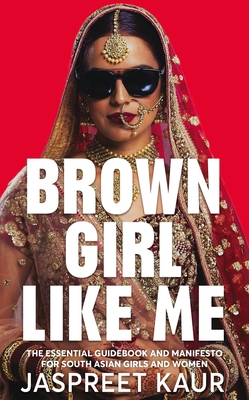 Description
---
An essential, empowering and groundbreaking toolkit and call-to-arms, giving South Asian women the support they need to step into the multiplicity of their cultural, religious and political experiences

You might feel that this fight is too big for you. How on earth can you dismantle so many complex, long-standing systems of oppression? My answer: piece by piece.

Brown Girl Like Me is an inspiring memoir and empowering manifesto that equips women with the confidence and tools they need to navigate the difficulties that come with an intersectional identity. Jaspreet Kaur unpacks key issues such as the media, the workplace, the home, education, mental health, culture, confidence and the body, to help South Asian women understand and tackle the issues that affect them, and help them be in the driving seat of their own lives.

Jaspreet pulls no punches, tackling difficult topics from mental health and menstruation stigma to education and beauty standards, from feminism to cultural appropriation and microaggressions. She also addresses complex issues, such as how to manage being a brown feminist without rejecting your own culture, and why Asian girls – the second highest performing group of students in the country – aren't seen in larger numbers in universities and head offices.

Interviews with brilliant South Asian Women of all walks of life as well as academic insight show what life is really like for brown women in the diaspora. Part toolkit, part call-to-arms, Brown Girl Like Me is essential reading for South Asian women as well as people with an interest in feminism and cultural issues, and will educate, inspire and spark urgent conversations for change.
About the Author
---
Jaspreet Kaur, also known by her online handle 'Behind the Netra' is an award-winning spoken word artist, history teacher and writer from London. She is passionate about gender issues, taboo subjects and encouraging positive social change in both the Asian community and wider society. Her work tackles issues related to gender discrimination, mental health stigma, the postcolonial immigrant experience, and more.

Jaspreet is a regular on the BBC and Sunday Morning Live and worked with the UN on the HeforShe campaign. She is currently a Research Fellow at Birkbeck University's Centre for British Political Life.
Praise For…
---
Jaspreet voices all the taboos of a brown girl's existence with truth, honesty and blatancy -- Shazia Mirza, comedian and writer

A rousing manifesto, borne from Kaur's wide-ranging personal experiences and those of other strong brown women, for taking our identities and power back from society and fully owning our voices and places in the world. Beyond "essential reading", this book should be "canonical reading." -- Jenny Bhatt, author of the award-winning Each of Us Killers

"An authentic, bold and and inspiring read.... I believe all brown girls and beyond will find a piece of themselves between these pages. The book is informative and important. I would highly recommend it! -- Dr Pushpinder Chowdhry, MBE, founder and CEO of The UK Asian Film Festival and Tongues on Fire

"The definitive guide to navigating feminism, mental health, microaggressions at the workplace and misogyny for South Asian women. . . . Get your bhangra on and be inspired by Kaur's debut which should go on to become canonical reading." —Harshita Lalwani of Bad Form magazine