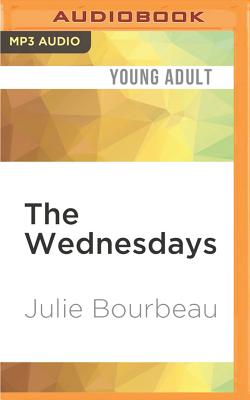 $9.99

Special Order - Subject to Availability
Fall '12 Kids List
---
"If you think Mondays are bad, you should experience a Wednesday in the little town halfway up Mt. Tibadabo. While most of the villagers shutter up their homes and hunker down to avoid the bad luck that always seems present on Wednesdays, 10-year-old Max can't resist the urge to peek out the window to see what's happening. Unfortunately, he catches a case of the Wednesdays and has to use all of his cleverness to try to save himself and his family from the danger he has unleashed. A great, fun read!"
— Rachel Dunham, Once Upon a Time, Montrose, CA
Description
---
Max's village is absolutely normal in every single way and on every single day - except Wednesday. Most of the townsfolk shutter their windows and lock their doors to hide away from the many peculiar things that happen - things like cats getting stuck in the vacuum cleaner and birthday cakes meeting fiery and horrific ends. But Max is too curious for that, and so, breaking every rule in the village, he searches out the cause of all the Wednesday weirdness.
What he uncovers is a secret so devious - so dastardly and mischievous - that life as he knows it will never be the same. Max himself is not the same. Suddenly the mysterious little accidents so common on Wednesdays are happening to him on Thursdays, Fridays - even Saturdays
What's come over Max? And more importantly, is there any cure for a case of the Wednesdays?
Mystery, magic, mischief and monsters abound in this slightly fantastical story of a human kid who wants to stay that way.