Mirrored Heavens (Between Earth and Sky #3) (Hardcover)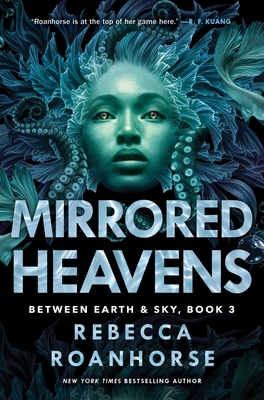 $29.99

Coming Soon - Available for Pre-Order Now
Other Books in Series
This is book number 3 in the Between Earth and Sky series.
Description
---
The interwoven destinies of the people of Meridian will finally be determined in this stunning conclusion to New York Times bestselling author Rebecca Roanhorse's Between Earth and Sky trilogy.

Even the sea cannot stay calm before the storm. —Teek saying

Serapio, avatar of the Crow God Reborn and the newly crowned Carrion King, rules Tova. But his enemies gather both on distant shores and within his own city as the matrons of the clans scheme to destroy him. And deep in the alleys of the Maw, a new prophecy is whispered, this one from the Coyote God. It promises Serapio certain doom if its terrible dictates are not fulfilled.

Meanwhile, Xiala is thrust back amongst her people as war comes first to the island of Teek. With their way of life and their magic under threat, she is their last best hope. But the sea won't talk to her the way it used to, and doubts riddle her mind. She will have to sacrifice the things that matter most to unleash her powers and become the queen they were promised.

And in the far northern wastelands, Naranpa, avatar of the Sun God, seeks a way to save Tova from the visions of fire that engulf her dreams. But another presence has begun stalking her nightmares, and the Jaguar God is on the hunt.

Nominated for the Nebula, Lambda, Locus, and Hugo Awards, winner of the Alex Award from the American Library Association and the Ignyte Award from Fiyah magazine, the Between Earth and Sky trilogy is amongst our most lauded modern fantasy series from The New York Times, Los Angeles Times, and USA TODAY bestselling author Rebecca Roanhorse.
About the Author
---
Rebecca Roanhorse is the New York Times bestselling author of Trail of Lightning, Storm of Locusts, Black Sun, and Star Wars: Resistance Reborn. She has won the Nebula, Hugo, and Locus Awards for her fiction, and was the recipient of the 2018 Astounding Award for Best New Writer. She lives in New Mexico with her family.
Praise For…
---
"Rebecca Roanhorse… [is one] of the Indigenous novelists reshaping North American science fiction, horror and fantasy — genres in which Native writers have long been overlooked."
— The New York Times

"The pages turn themselves. A beautifully crafted setting with complex character dynamics and layers of political intrigue? Perfection. Mark your calendars, this is the next big thing."
— Kirkus, starred review

"A a razor-sharp examination of politics, generational trauma, and the path to redemption...Roanhorse strikes a perfect balance between powerful worldbuilding and rich thematic exploration as the protagonists struggle against their fates. Fantasy fans will be wowed."

— Publishers Weekly, starred review

"I emerged from Black Sun bleary-eyed, tongue-tied, heart-swollen. This is a brilliant world that shows the full panoply of human grace and depravity. Rebecca Roanhorse is the epic voice of our continent and time."—Ken Liu, award-winning author of The Grace of Kings, and The Hidden Girl and Other Stories.

"This is the novel I've been waiting for. This is the novel we've all been waiting for. Everything's different now, with Black Sun. Different and better. Stands shoulder to shoulder with the very best fantasy out there. There's Martin, there's Jemisin, and now there's Roanhorse."—Stephen Graham Jones, award-winning author of The Only Good Indians, and Mongrels

"Engrossing and vibrant. Black Sun left me with my jaw on the floor."—Tochi Oneybuchi, author of Riot Baby

"Absolutely tremendous. Roanhorse knocks it out of the park again with an epic tale about duty and destiny that will sweep readers away and broaden the horizons of an entire genre."—S.A. Chakraborty, nationally bestselling author of The City of Brass.

"The world sucks you in from the start, and the pacing yanks you along by the collar. Black Sun is instantly riveting from the beginning—Roanhorse is at the top of her game here."—R.F. Kuang, bestselling author of The Poppy War

"Roanhorse introduces an epic fantasy with vivid worldbuilding and exciting prose. Readers will be attracted to the story, in which there is no real right vs. wrong. Only inevitable change will draw out the heroes of this imaginative tale." — Library Journal, (starred review)

"Rebecca Roanhorse… [is one] of the Indigenous novelists reshaping North American science fiction, horror and fantasy — genres in which Native writers have long been overlooked."
— The New York Times

"The pages turn themselves. A beautifully crafted setting with complex character dynamics and layers of political intrigue? Perfection. Mark your calendars, this is the next big thing."
— Kirkus, starred review

"A a razor-sharp examination of politics, generational trauma, and the path to redemption...Roanhorse strikes a perfect balance between powerful worldbuilding and rich thematic exploration as the protagonists struggle against their fates. Fantasy fans will be wowed."

— Publishers Weekly, starred review

"I emerged from Black Sun bleary-eyed, tongue-tied, heart-swollen. This is a brilliant world that shows the full panoply of human grace and depravity. Rebecca Roanhorse is the epic voice of our continent and time."—Ken Liu, award-winning author of The Grace of Kings, and The Hidden Girl and Other Stories.

"This is the novel I've been waiting for. This is the novel we've all been waiting for. Everything's different now, with Black Sun. Different and better. Stands shoulder to shoulder with the very best fantasy out there. There's Martin, there's Jemisin, and now there's Roanhorse."—Stephen Graham Jones, award-winning author of The Only Good Indians, and Mongrels

"Engrossing and vibrant. Black Sun left me with my jaw on the floor."—Tochi Oneybuchi, author of Riot Baby

"Absolutely tremendous. Roanhorse knocks it out of the park again with an epic tale about duty and destiny that will sweep readers away and broaden the horizons of an entire genre."—S.A. Chakraborty, nationally bestselling author of The City of Brass.

"The world sucks you in from the start, and the pacing yanks you along by the collar. Black Sun is instantly riveting from the beginning—Roanhorse is at the top of her game here."—R.F. Kuang, bestselling author of The Poppy War

Roanhorse introduces an epic fantasy with vivid worldbuilding and exciting prose. Readers will be attracted to the story, in which there is no real right vs. wrong. Only inevitable change will draw out the heroes of this imaginative tale. — Library Journal, (starred review)

"A brilliant follow-up" -- Buzzfeed
— Buzzfeed