Gustavo, the Shy Ghost (The World of Gustavo) (Hardcover)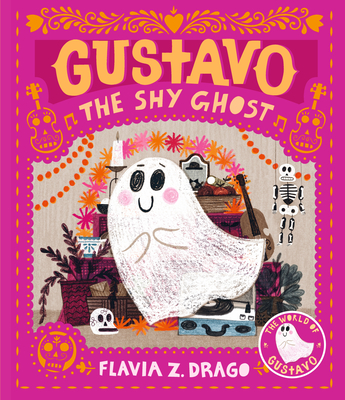 Staff Reviews
---
Everyone needs a book that makes them say "aww". Gustavo will charm his way into your heart with the music of his sweet story. People will love the bright colors of Flavia Z. Drago's illustrations, perfect for Day of the Dead celebrations, or anytime of the year. Plus, kids will enjoy the search and find element as they look for Gustavo on every page. (Try it. He's not always easy to find!) — From Brandi's Picks (page 2)
Description
---
A #1 New York Times bestseller!

This winning debut picture book from Mexican artist Flavia Z. Drago about finding the courage to make friends is perfect for the spooky season — or anytime.

Gustavo is good at doing all sorts of ghostly things: walking through walls, making objects fly, and glowing in the dark. And he loves almost nothing more than playing beautiful music on his violin. But Gustavo is shy, and some things are harder for him to do, like getting in a line to buy eye scream or making friends with other monsters. Whenever he tries getting close to them, he realizes they just can't see him. Now that the Day of the Dead is fast approaching, what can he do to make them notice him and to share with them something he loves? With fancifully detailed artwork and visual humor, debut picture-book creator Flavia Z. Drago's vivid illustrations tell a sweet and gently offbeat story of loneliness, bravery, and friendship that is sure to be a treat for little ghouls and goblins everywhere.
About the Author
---
Flavia Z. Drago was born and raised in Mexico City. As a child, she wanted to be a mermaid. When that didn't happen, she began her career as a graphic designer and a children's book illustrator. She loves color, textures, and shapes and enjoys creating them with different materials and a bit of digital sorcery. She lives in Mexico.
Praise For…
---
This is a debut novel from Drago, a Mexican author and illustrator, and she deftly weaves in cultural references. The illustrations are bright and detailed. Gentle storytelling and vibrant mixed-media illustrations make for an enjoyable seasonal story.
—School Library Journal (starred review)

Mexican-born author/illustrator Drago sweetly captures the angst-y little ghost's perpetual perturbation...Iconic images of Mexican culture cleverly pepper the scenery. With the papel picado banners, panes de muerto, and Catrinas, Drago provides a festive environment for Gustavo's laments. Decorated skulls peek out from around every corner; even the family goldfish is a smiling skeleton. This ghostly tale proves that anyone can have a happily-ever-after.
—Kirkus Reviews (starred review)

Born and raised in Mexico City, Drago fills her sweet ghost story with vibrant colors, textures, and authentic details from Mexican culture. Her illustrations burst with whimsical flourishes and clever details that youngsters will want to pore over repeatedly. While ideal for Day of the Dead, this heartwarming story about bravely taking the first step toward friendship is wonderful for little listeners year-round.
—Booklist

Gustavo is a sympathetic protagonist, and the illustrations are filled with appealing monsters and witty details.
—The Horn Book

Mexican artist Drago's picture book debut offers a gentle friendship tale and folk-art-style, textural mixed-media pictures.
—Publishers Weekly

With rosy cheeks and wide eyes, Gustavo's an easy little spirit to root for, and the book is particularly refreshing in its acceptance of Gustavo's continued introversion even after making friends...Grainy, crayon-like textures pair with sturdy scribbles to give the mixed media art a joyful sense of movement, and the illustrations provide entertaining details of Day of the Dead traditions and the "monstrous" cast. This is an easy pick for some cheerful fall fun or in anticipation of a Day of the Dead celebration.
—Bulletin of the Center for Children's Books