Frank and Bean: Food Truck Fiasco (Hardcover)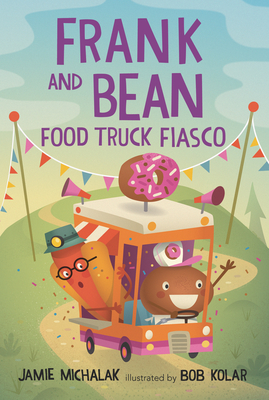 Description
---
Kids will gobble up this hilarious second adventure starring Frank and Bean, who prove that, win or lose, true friends can make any competition go down easy.

Frank likes peace and quiet. He likes his tea, his book, and his yoga mat. He is just settling in to enjoy them, when . . . honk! honk! honk! Here comes Bean with his new food truck! It is fun on wheels! It's a rolling party! Bean is going to Food Truck Friday to sell his donuts. Bean's donuts have zip. They have zing. They are sure to win the competition! Frank has something to sell, too. He has oatmeal. Oatmeal is boring. It needs zip. It needs zing. What if Bean's donuts could help Frank's oatmeal? What if donuts and oatmeal could work together, just like friends? Dry wit meets stylish, comical artwork as introspective Frank and gregarious Bean return in a tale for anyone who likes food, unlikely friendships, and laugh-out-loud funny adventures.
About the Author
---
Jamie Michalak is the author of Frank and Bean, illustrated by Bob Kolar, which Booklist called "absurd, over-the-top, and laugh-out-loud funny." She also wrote the Joe and Sparky books, illustrated by Frank Remkiewicz, and the picture book Dakota Crumb, Tiny Treasure Hunter, illustrated by Kelly Murphy. Jamie Michalak lives in Rhode Island.

Bob Kolar is the illustrator of many books for children. In addition to the first book about Frank and Bean, he illustrated AlphaOops! by Alethea Kontis, Nothing Like a Puffin by Sue Soltis, and Slickety Quick: Poems about Sharks by Skila Brown. Bob Kolar lives in Missouri.
Praise For…
---
In this odd-couple duo's second outing, kids see that things taste better when shared with friends. . . . Kolar has nailed facial expressions for his main characters, and the sly humor in the illustrations will tickle the funny bones of those savvy enough to spy it. . . . Load up on zip and zing: Oatmeal mornings will never be the same again.
—Kirkus Reviews