Geek Parenting: What Joffrey, Jor-El, Maleficent, and the McFlys Teach Us about Raising a Family (MP3 CD)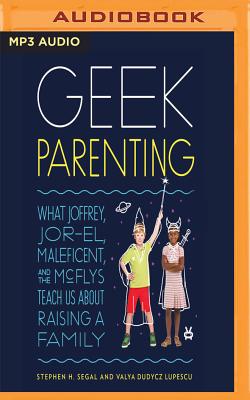 $9.99

Special Order - Subject to Availability
Staff Reviews
---
Pick up this book and turn to page 58. There, if that doesn't sell this book, well, maybe we just don't run in the same geek circles but you should definitely still buy this book. You can flip to any page and find your favorite pop culture reference and learn a little something about what it has to say on the subject of family and growing up. From the Power Puff Girls to The Walking Dead, from E.T. to Fringe our geeky heroes (and sometimes villains) have a lot to teach us. Isn't that why we love them? I was already preparing to share my love of All Things Geek(tm) with my kiddo and now I'll be even better prepared to use Geek as a learning tool. Even if you don't have and/or don't want kids Geek Parenting is a hell of a fun read just because. Who doesn't want more excuses to talk about Buffy and the Scoobies?
—
Heather
Description
---
It takes a starship to raise a child. Or a time machine. Or a tribe of elves. Fortunately, Geek Parenting offers all that and more, with thoughtful mini essays that reveal profound child-rearing advice (and mistakes) from the most beloved tales of geek culture.
Nerds and norms alike can take counsel from some of the most iconic parent-child pairings found in pop culture: Aunt May and Peter Parker, Benjamin and Jake Sisko, Elrond and Arwen, even Cersei and Joffrey.
Whether you're raising an Amazon princess, a Jedi Padawan, a brooding vampire, or a standard-issue human child, Geek Parenting helps you navigate the ion storms, alternate realities, and endless fetch quests that come with being a parent. Includes parenting experts from across time and space, such as:
Luke and Vader
Korra and Tenzin
Wednesday and Morticia Addams
Frodo and Bilbo
Rose and Jackie Tyler
Carl and Michonne
Thor, Loki, and Odin
Starbuck, Apollo, and Adama
Stewie and Lois
Sarah Manning and Mrs. S.
T'Challa and T'Chaka
Spock, Sarek, and Amanda
Claudia and Lestat
San and Moro
Perseus and Zeus
Dorothy and Auntie Em
Bruce Wayne and Alfred
Buffy and Giles
Meg Murry and Aunt Beast
Orpheus and Morpheus
Paul Atreides and Lady Jessica
Kal-El and Jor-El
Chakotay and Kolopak
Scott and Dr. Evil
Diana and Hippolyta
Alexander and Worf