Afraid of the Doctor: Every Parent's Guide to Preventing and Managing Medical Trauma (Hardcover)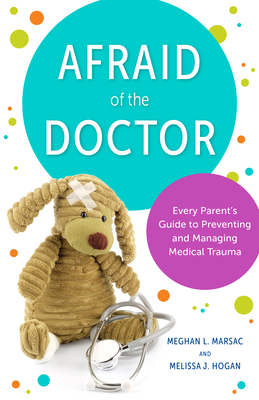 Description
---
8/22/21, Psychology Today: Meghan Marsac offers tips to help prepare children for doctor's appointments and medical procedures.
Link: https: //www.psychologytoday.com/us/blog/afraid-the-doctor/202108/5-tips-taking-your-child-the-doctor
About the Author
---
Melissa J. Hogan, JD, is a parent to a child with a rare, genetic disease who has faced a countless number of surgeries, specialists, and as a result, medical trauma. In addition to caregiving and advocating for her son's needs, she is a consultant for clinical trials in rare and neurodegenerative disorders and has published in several medical journals. She also founded the leading research and advocacy foundation in Hunter syndrome, Project Alive, which has raised millions of dollars for research, and previously worked as a attorney in the healthcare field. She is a frequent speaker on health care and educational advocacy, rare diseases, and clinical trials. She lives with her three sons and a service dog outside Nashville, Tennessee. Meghan L. Marsac, PhD, is a pediatric psychologist with expertise in helping children and families adjust to and deal with medical conditions. She is currently a tenured, Associate Professor at the University of Kentucky. She has published her NIH and foundation-funded research on medical trauma in lead medical and psychology journals. She has presented at national conferences for the American Academy of Pediatrics, the International Society of Traumatic Stress Studies, the Society of Pediatric Psychology and the Academy of Pediatric Physical Therapy among others. She has ongoing international collaborations on the impact of COVID-19 on preschool children and their caregivers. She also leads medical trauma training for healthcare professionals through the national Center for Pediatric Traumatic Stress. In addition, she is the lead creator of the Cellie Coping Kit for children with medical conditions. She lives with her family in Lexington, Kentucky.