Future Home of the Living God (MP3 CD)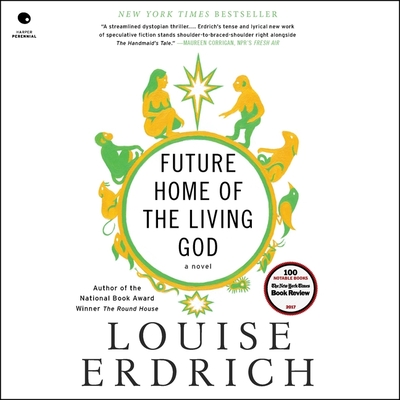 $39.99

Special Order - Subject to Availability
Staff Reviews
---
I've loved Erdrich's novels ever since Love Medicine came out in 1984. Future Home is no exception. Set in a not to distant time in an America dominated by an authoritarian government based on religious fundamentalism, it touches on many of the issues of Atwood's The Handmaid's Tale and Orwell's 1984. The protagonist and narrator is part Ojibwe and the action shifts back and forth between the city where she was raised by her white adoptive parents and the reservation where she goes to find her birth mom. Humorous, suspenseful and touching, it's a captivating tale that kept me totally engrossed throughout.
I listened to the author read this as a Libro.fm audiobook. Libro.fm is the indie bookstore's alternative to Amazon's Audible. Ask any staff member or visit our website to learn about listening to digital audio from Libro.fm.
—
Bob
December 2017 Indie Next List
---
"Powerful, prophetic, and absolutely pertinent to our times, Louise Erdrich's new novel, Future Home of the Living God, is a horrifying, haunting story about the lengths the government will go to control women's reproductive rights and ensure the success of mankind as we know it. Riveting, repulsive, and revealing at the same time, Erdrich captures the essence of Margaret Atwood's The Handmaid's Tale and spins a new twist sure to tantalize and terrorize readers' thoughts and play on their fears. Once again, Erdrich challenges societal constraints and conceives a novel guaranteed to leave you guessing. I highly recommend it!"
— Kristin Bates, McLean & Eakin Booksellers, Petoskey, MI
Winter 2018 Reading Group Indie Next List
---
"The Margaret Atwood parallels in this novel are unavoidable; however, Future Home of the Living God certainly holds its own. As bleak as the subject matter is, Erdrich also investigates hope, belief, and what it means to be human in a world where humans may no longer be recognizable as such. Erdrich handles the speculative elements beautifully and with a light touch, as the ultimate story is one of motherhood, identity, community, and finding meaning in a world of rapid change."
— Kaisha Khalifeh, The Open Book, Bend, OR
Description
---
Louise Erdrich, the New York Times bestselling, National Book Award-winning author of LaRose and The Round House, paints a startling portrait of a young woman fighting for her life and her unborn child against oppressive forces that manifest in the wake of a cataclysmic event.
The world as we know it is ending. Evolution has reversed itself, affecting every living creature on earth. Science cannot stop the world from running backwards, as woman after woman gives birth to infants that appear to be primitive species of humans. Thirty-two-year-old Cedar Hawk Songmaker, adopted daughter of a pair of big-hearted, open-minded Minneapolis liberals, is as disturbed and uncertain as the rest of America around her. But for Cedar, this change is profound and deeply personal. She is four months pregnant.
Though she wants to tell the adoptive parents who raised her from infancy, Cedar first feels compelled to find her birth mother, Mary Potts, an Ojibwe living on the reservation, to understand both her and her baby's origins. As Cedar goes back to her own biological beginnings, society around her begins to disintegrate, fueled by a swelling panic about the end of humanity.
There are rumors of martial law, of Congress confining pregnant women. Of a registry, and rewards for those who turn these wanted women in. Flickering through the chaos are signs of increasing repression: a shaken Cedar witnesses a family wrenched apart when police violently drag a mother from her husband and child in a parking lot. The streets of her neighborhood have been renamed with Bible verses. A stranger answers the phone when she calls her adoptive parents, who have vanished without a trace. It will take all Cedar has to avoid the prying eyes of potential informants and keep her baby safe.
A chilling dystopian novel both provocative and prescient, Future Home of the Living God is a startlingly original work from one of our most acclaimed writers: a moving meditation on female agency, self-determination, biology, and natural rights that speaks to the troubling changes of our time.
Author's preferred text.