Chasing Hillary: Ten Years, Two Presidential Campaigns, and One Intact Glass Ceiling (MP3 CD)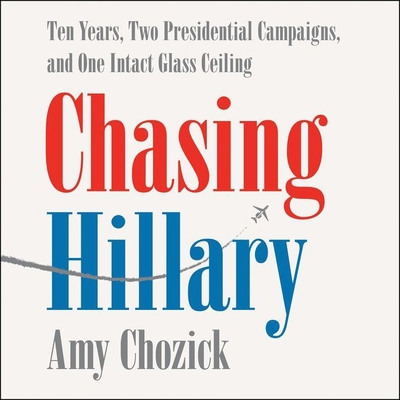 $39.99

Special Order - Subject to Availability
Description
---
For nearly a decade, Amy Chozick chronicled Hillary Clinton's pursuit of the presidency. Chozick's front-row seat, initially at the Wall Street Journal covering Mrs. Clinton's imploding 2008 campaign, and then at the New York Times where she was assigned "The Hillary Beat," set off a years-long journey in which the formative years of her twenties and thirties became, both personally and professionally, intrinsically intertwined to Clinton's presidential ambitions. As Mrs. Clinton tried, and twice failed, to shatter "that highest hardest glass ceiling," Chozick was trying, with various fits and starts, to scale the highest echelons of American journalism.
In a rollicking, hilarious, dishy narrative, Chozick takes us through the high- (and low-) lights of a wildly dramatic presidential race. But Chozick's unique vantage point and candor lift the veil from the story we thought we all knew. Here is the real story of what happened, with the kind of inside detail that constantly surprises and enlightens.
But Chasing Hillary is also the unusually personal and moving story of how Chozick came to understand Clinton not as an unknowable enigma and political animal, but as a complete, complex, person, full of contradictions and forged in the crucible of political battles that had long predated Chozick's years covering her. And as Chozick gets engaged, married, buys an apartment, climbs the professional ladder, and inquires about freezing her eggs so she can have children after the 2016 campaign, she dives deeper into decisions Mrs. Clinton had made at similar points in her early career. In the process, Chozick develops an intimate understanding of what drives Clinton, how she accomplished what no woman had before, and why she ultimately failed. And the social fissures in the electorate that would drive angry voters to Donald Trump and blindside Hillary Clinton, unexpectedly bring out the tensions in Chozick's own life--between the red state she came from and the blue state she ended up in, between her desire to climb in journalism as a woman, but be treated no differently than a man.
Mrs. Clinton's shocking defeat would mark the end of the almost imperial hold she'd had on Chozick for most of her professional life. But the results also make Chozick question everything she'd worked so hard for in the first place. Political journalism had failed. The elite world Chozick had tried for years to fit in with had been rebuffed. The less qualified, bombastic man had triumphed, as they always seemed to do, and Mrs. Clinton had retreated to the woods in Chappaqua, N.Y. finally comfortable enough to just walk, no makeup, no pants suit, showing the real person Chozick had spent years hoping to see. Illuminating, poignant, laugh-out-loud funny, Chasing Hillary is a campaign book like never before.