What Would Frida Do?: A Guide to Living Boldly (Paperback)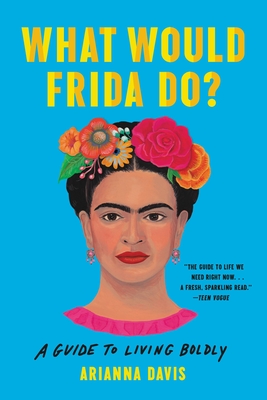 Description
---
Having doubts about your next step? Ask yourself what artist Frida Kahlo would do in this "beautiful volume . . . sure to inspire" (Boston Globe).

NAMED A BEST GIFT BOOK OF THE YEAR BY: Instyle, Oprah Daily, Business Insider, Esquire, Boston Globe, and Redbook

Revered as much for her fierce spirit as she is for her art, Frida Kahlo stands today as a feminist symbol of daring creativity. Her paintings have earned her admirers around the world, but perhaps her greatest work of art was her own life. What Would Frida Do? celebrates this icon's signature style, outspoken politics, and boldness in love and art—even in the face of hardship and heartbreak. We see her tumultuous marriage with the famous muralist Diego Rivera and rumored flings with Leon Trotsky and Josephine Baker. In this irresistible read, writer Arianna Davis conjures Frida's brave spirit, encouraging women to create fearlessly and stand by their own truths.
About the Author
---
Arianna Davis is the editorial director for The TODAY Show. Davis previously worked at Oprah Daily, Refinery29, and Us Weekly; and has written for New York, Glamour, and PopSugar Latina. She has also served as an entertainment and culture expert for Access Hollywood and TLC documentaries. She lives in New York City.
 
Praise For…
---
"A modern take on a woman who was modern beyond her time. Arianna Davis's book paints a colorful picture of the strength, courage, and love that uplifted Frida Kahlo through her many tragedies. This comprehensive look into Frida's life leads me to think that we could all learn a lesson or two from Frida."—
Nina Garcia, editor-in-chief of Elle
"Frida Kahlo, the beloved artist and feminist, lived a pretty fearless life—one we could all learn a few lessons from…This read will leave you feeling inspired."
—
The Today Show
"A passionate and insightful celebration of the life of Frida Kahlo,
What Would Frida Do?
applies Frida's life to modern situations in a heartfelt and fun manner readers will love!"—
Chanel Cleeton, author of Next Year in Havana and When We Left Cuba
"Have you ever found yourself at a crossroads, wondering, as a woman, an artist, a bold seeker, what was next for your life? … A guidebook based on the life and work of pioneering Mexican painter Frida Kahlo, this beautiful volume is sure to inspire."
 —
Boston Globe
"Arianna
Davis's book shares this icon's boldness and courage in full force, to inspire
a new generation. I am excited to support a fellow Latina's work to keep our
history alive."—
Dascha Polanco, actress, activist, and proud Afro-Latina
"The guide to life we need right now... a fresh, sparkling read that offers advice to readers through the lens of the painter's life experiences — a missive from woman to woman through a life lived fully, if imperfectly, in spite of so many obstacles."
 —
Teen Vogue
"Arianna Davis makes
a beautiful case for contemporary women to follow in Frida's footsteps as we
navigate love, work, creativity, friendship, and even getting dressed in the
morning. This vibrant herstory-meets-self-help book is such a gift."—
Gabrielle Korn, Director of Fashion and Culture at Refinery29
"This book is what happens when a memoir meets self-help as the iconic Frida Kahlo's amazing story inspires a modern day guide to loving, living and finding true happiness."—
Business Insider
"Guaranteed to inspire even the most burnt out friend"
 —
InStyle
"Frida Kahlo truly elevated confidence into an art form. In her book, Arianna Davis shows us the timelessness of Frida's message of unapologetic self-acceptance and fearlessness.
What Would Frida Do?
beautifully reminds us how abundant a woman's strength can be."—
Julissa Prado, Founder & CEO of Rizos Curls
"
What Would Frida Do?
will take you on a beautiful journey following how Frida turned her pain into power and left the evidence behind to inspire many generations to come."—
Carolina Contreras, CEO of Miss Rizos Salon
"Luminous... self-help meets biography in an inspiring narrative of what modern women can learn from one of the twentieth century's greatest artists. From Kahlo's brazen creativity to her unapologetic politics, her boldness in marriage to her lifelong battle with chronic illness, Davis explores the contemporary lessons we can mine from Kahlo's courageous way of life."—
Esquire
"A must read. This is a heartfelt portrayal of a complex, brilliant woman whose bold perspective on creativity, work, and sex stands the test of time."—
Jessica Knoll, New York Times-bestselling author of Luckiest Girl Alive
"This gem of a book… couldn't have been gifted to the world at a better time."—
Black Enterprise
"Gift this pithy gem to any friend who could use a little inspiration. Bonus: It happens to look great on any bookshelf."—
Redbook
A "Best Self-Help Book That Will Inspire You to Make a Change"—
Readers Digest