A New World Begins: The History of the French Revolution (Paperback)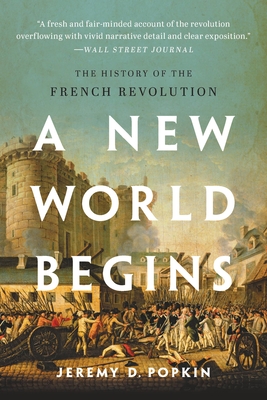 $22.99

Not Available In-Store - Usually Ships from Warehouse in 1-5 Days
Description
---
From an award-winning historian, a "vivid" (Wall Street Journal) account of the revolution that created the modern world
The French Revolution's principles of liberty and equality still shape our ideas of a just society—even if, after more than two hundred years, their meaning is more contested than ever before. In A New World Begins, Jeremy D. Popkin offers a riveting account of the revolution that puts the reader in the thick of the debates and the violence that led to the overthrow of the monarchy and the establishment of a new society. We meet Mirabeau, Robespierre, and Danton, in all their brilliance and vengefulness; we witness the failed escape and execution of Louis XVI; we see women demanding equal rights and Black slaves wresting freedom from revolutionaries who hesitated to act on their own principles; and we follow the rise of Napoleon out of the ashes of the Reign of Terror.
Based on decades of scholarship, A New World Begins will stand as the definitive treatment of the French Revolution.
About the Author
---
Jeremy D. Popkin holds the William T. Bryan chair of history at the University of Kentucky. He is the author of many books, including You Are All Free and A Short History of the French Revolution. He lives in Lexington, Kentucky.
Praise For…
---
"A fresh and fair-minded account of the revolution overflowing with vivid narrative detail and clear exposition."
 —Wall Street Journal

"When it comes to showing how events can scramble the prospects of even the most determined plotters, Popkin has no equal, and readers will find in his pages a deeply satisfying account of the inevitable messiness of rapid change."—New York Review of Books

"Popkin's expertise on revolutionary-era France is keenly demonstrated here—from pre-revolutionary thought through the history of the country up to Louis XVI and his Hapsburg wife, Marie-Antoinette, and beyond, to the years of upheaval and the reign of Napoleon Bonaparte."
 —Booklist

"A fresh, welcome new interpretation of the French Revolution."—Kirkus

"This is a book that has been needed for a long time: a lucid, engaging, authoritative, accurate, and up-to-date history of the French Revolution. Jeremy Popkin is one of the great living experts on the subject, and he has drawn on a half-century of study to produce this first-rate work. Particularly impressive is the way he integrates the history of the Haitian Revolution into that of the French Revolution. A New World Begins will appeal to experts, students, and general readers alike."—David A. Bell, professor of history, Princeton University and author of Men on Horseback: Charisma and Power in the Age of Revolutions

"Jeremy Popkin is one of the most eminent scholars working on the French Revolution, and his A New World Begins provides us with the best, fullest and most up-to-date history of the Revolutionary decade from 1789 through to the advent of Napoleon. Writing with an insight that distils a lifetime's study, Popkin is particularly alert to the range of experience of those who lived through the Revolutionary years. There is heart and compassion here as well as wit and intelligence: Popkin does not flinch from recounting the Revolution's more sombre legacies, but can still elicit in his readers a bitter-sweet sense of excitement about a moment in western history when, indeed, a new epoch in the history of humanity seemed to be blossoming."—Colin Jones, author of The Great Nation: France from Louis XV to Napoleon 1715-99

"Sweeping in coverage, A New World Begins offers a fresh and richly detailed account of French revolutionary politics. Jeremy Popkin is an outstanding scholar of the French and Haitian Revolutions, and his deep layers of expertise shine through the pages of this book. This thought-provoking account will push readers to reflect deeply on the contradictions and complexities of modern democracy."—Suzanne Desan, professor of history, University of Wisconsin-Madison and author of TheFamily on Trial in Revolutionary France

"Based on nearly half a century of research and teaching, Jeremy Popkin's new study of the French Revolution brilliantly brings alive the complex goals and emotions of the men and women and people of color struggling to create a new world. It is especially effective in exploring what that struggle meant, both for the generation of Revolutionaries and for our own day. A New World Begins is an outstanding synthesis that is sure to stand as basic reading on the subject for many years to come."—Timothy Tackett, professor emeritus of history, UC Irvine and author of Becoming a Revolutionary