The Song of Our Scars: The Untold Story of Pain (Hardcover)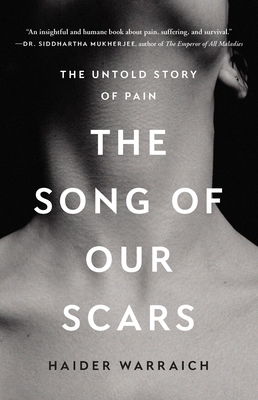 $30.00

Not Available In-Store - Usually Ships from Warehouse in 1-5 Days
Description
---
A doctor's personal and unsparing account of how modern medicine's failure to understand pain has made care less effective

In The Song of Our Scars, physician Haider Warraich offers a bold reexamination of the nature of pain, not as a simple physical sensation, but as a cultural experience.

Warraich, himself a sufferer of chronic pain, considers the ways our notions of pain have been shaped not just by science but by politics and power, by whose suffering mattered and whose didn't. He weaves a provocative history from the Renaissance, when pain transformed into a medical issue, through the racial legacy of pain tolerance, to the opiate epidemics of both the nineteenth and twenty-first centuries, to the cutting edge of present-day pain science. The conclusion is clear: only by reckoning with both pain's complicated history and its biology can today's doctors adequately treat their patients' suffering.

Trenchant and deeply felt, The Song of Our Scars is an indictment of a broken system and a plea for a more holistic understanding of the human body. 
 
About the Author
---
Haider Warraich is a doctor at Brigham and Women's Hospital, Harvard Medical School, and the VA Boston Healthcare System. He is the author of Modern Death and State of the Heart, and regularly writes for the New York Times and Washington Post, among others. He lives in Wellesley, Massachusetts.
Praise For…
---
"What Warraich says in The Song of Our Scars about early-twenty-first-century medicine's explosion in opioid use holds true of the hegemony of the pain score: it has 'erased whatever little we knew about the nature of suffering,' and by stripping out the nuances of pain studies, it also 'exaggerate[s] the biases that lead to vulnerable people's agony going unattended.'"—Laura Kolbe, New York Review of Books

"A fascinating tour of the biology and neuroscience of pain…[Warraich] blasts the US medical system for lacking empathy and time to devote to patients, as well as for being too siloed, insufficiently committed to social justice and too swayed by pharmaceutical marketing."—Anna Nowogrodzki, Nature

"Warraich writes vividly and well… he carefully and incisively analyzes the persistence of racial and gender differences in medical imagery and treatment of pain… Warraich's tour de force is a fine introduction."
 —Marcia L. Meldrum, Science

"Warraich's push to change the way we talk about pain and prescribe treatment is compelling… The Song of Our Scars balances history against narrative examples from Warraich's experiences a patient and physician to provide an engaging and thought-provoking approach to a difficult topic. Ultimately, it's a very satisfying read and hard to put down, and when one does, the book stays with you in the questions it poses and the subtle shift it makes in the reader's understanding of pain and its treatment."——Shelby Smoak, New York Journal of Books

"Warraich's fascinating, informative, and very personal narrative remains an invaluable, thought-provoking call to arms to rethink our relationship with this nebulous human experience."
 —Emily Cataneo, Undark

"Warraich's very well written book looks at all aspects of acute and chronic pain: its history, its biology, medical treatment and mistreatment, and disparities in pain management and care that stem from racism and other biases… A must read."—Library Journal

"[A] fascinating meditation... Warraich makes a convincing case for a deeper understanding of pain and a 'truly person oriented' healthcare system."—Publishers Weekly

"In a wide-ranging overview, the author draws on scientific and medical studies, his work at the Pain Management Center of Brigham and Women's Hospital, and his clinical practice to examine the history, physiology, biology, and treatment of pain… A clear and timely examination of the complexities of pain."—Kirkus

"In this insightful and humane book about pain, suffering and survival, Warraich once again braids history and personal history to confront questions both ancient and contemporary. It is a marvelous read."—Dr. Siddhartha Mukherjee, author of The Emperor of All Maladies

"As physician-author Haider Warrich aptly points out, 'Almost everything we know about pain and how we treat it is wrong.' His masterful new book is a unique, panoramic and deep view of pain, taking us through his personal experience, its history and evolution, the science, and the massive corporate corruption that undermined the opioid epidemic. An incredible book."—Dr. Eric Topol, author of Deep Medicine

"Pain is both a universal experience and one that is deeply connected to class, gender, race, and power—truths that the opioid epidemic and declining life expectancy have made tragically apparent. In The Song of Our Scars, Warraich explores how the medical community's approach to pain went off the rails and makes a passionate case for more holistic, person-centered treatment. Beautifully written and deeply humane, this is essential reading for anyone seeking to understand the roots of the opioid crisis."—Beth Macy, author of Dopesick

"A wonderful exploration of the chronic pain conundrum—past and present—in all of its varied dimensions: biomedical, psychological, social, and economic. Warraich is truly a gifted storyteller."—Dr. Damon Tweedy, author of Black Man in a White Coat

"The Song of Our Scares is a brilliant deep dive into the emotional, physical, and metaphysical world of pain. The very personal and ultimately hopeful book, takes us on a remarkable journey, across the millennia and deep into the brain and consciousness. It also offers an unsparing look at how the cure (for chronic pain) became the disease. Dr. Haider Warraich has written The Emperor of All Maladies for pain."—Dr. Jonathan Reiner, author of Heart

"Pain is the most universal yet misunderstood aspect of what it means to be human. Dr. Warraich leverages his own intimate relationship with suffering and highly developed skills as a physician healer to pen a masterful book that will change your lens on mankind forever. The Song of Our Scars attacks the principal element of the human condition to be deciphered if we hope to mitigate the torment of societal scourges such as racism, poverty, chronic illness, and loneliness. The net result of Dr. Warraich's research and writing will, I believe, shorten the distance from our brains to our hearts and create a path toward healing and lasting empathy for one another."—Dr. Wes Ely, author of Every Deep-Drawn Breath

"To paraphrase Virginia Woolf, considering how common pain is, it's strange that it hasn't "taken its place with love and battle and jealousy among the prime themes of literature". The Song of Our Scars goes a long way to remedying this. Essential reading for anyone hoping to understand what it means to be alive."—Daniel Wallace, author of Big Fish