The Other Side of Sadness: What the New Science of Bereavement Tells Us About Life After Loss (Paperback)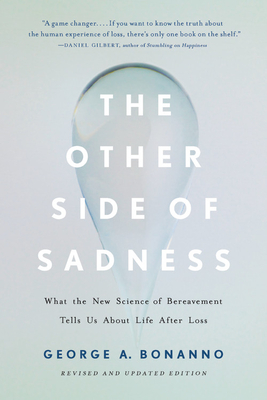 $18.99

Not Available In-Store - Usually Ships from Warehouse in 1-5 Days
Description
---
In this thoroughly revised and updated classic, a renowned psychologist shows that mourning is far from predictable, and all of us share a surprising ability to be resilient
The conventional view of grieving--encapsulated by the famous five stages of grief: denial, anger, bargaining, depression, and acceptance--is defined by a mourning process that we can only hope to accept and endure.
In The Other Side of Sadness, psychologist and emotions expert George Bonanno argues otherwise. Our inborn emotions--anger and denial, but also relief and joy--help us deal effectively with loss. To expect or require only grief-stricken behavior from the bereaved does them harm. In fact, grieving goes beyond mere sadness, and it can actually deepen interpersonal connections and even lead to a new sense of meaning in life.
About the Author
---
George A. Bonanno is professor of clinical psychology and chair of the Department of Counseling and Clinical Psychology at Columbia University's Teachers College. He lives in New York City with his wife and two children.
Praise For…
---
"Perhaps the most renowned grief researcher in the United States ... Bonanno's work ... has redefined the science of grief research."—The Atlantic

"Fascinating and readable ... a sensitive and sensible view of loss."—New York Times

"A deep and intelligent book.... It's heartening to discover that grieving is not 'work,' we don't have to be successful at it, and we're stronger than we know."—Double X, Slate

"This is a valuable book for Bonanno's application of the scientific method to a field that badly needs it."—New Scientist

"The Other Side of Sadness is a game changer. Bonanno carefully assembles scientific evidence to show that most of what we thought we knew is just plain wrong. If you want to know the truth about the human experience of loss, there's only one book on the shelf."—Daniel Gilbert, professor of psychology, Harvard University, and author of Stumbling on Happiness

"Bonanno, the most productive and influential bereavement researcher in America today, has changed the scientific landscape in the field of grief and bereavement."—Camille Wortman, Professor of Psychology, Stony Brook University

"Brilliant and moving."—Dacher Keltner, professor of psychology, University of California, Berkeley, and author of Born to Be Good

"The Other Side of Sadness paints a refreshingly new and scientifically-grounded portrait of the grieving process, one infused with positivity, laughter, and enduring bonds. Anyone interested in the emotional nuances of the human condition will value this warm, engaging, and accessible book."—Barbara L. Fredrickson, Ph.D., Kenan Distinguished Professor, University of North Carolina, Chapel Hill and author of Positivity

"George Bonanno's ground-breaking research on grief illuminates mankind's profound capacity for resilience, and shows us how to find meaning in life after death."—Jim Whitaker, Founder and Director Project Rebirth