The Cashless Revolution: China's Reinvention of Money and the End of America's Domination of Finance and Technology (Hardcover)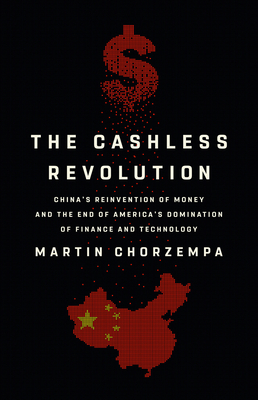 $29.00

Not Available In-Store - Usually Ships from Warehouse in 1-5 Days
Description
---
Financial Times, Best Books of 2022: Economics

The startling picture of how China's revolution in finance and technology is changing both Wall Street and the way individuals manage their personal finances.

The future of finance – the way Wall Street operates and how individuals manage their money - is on the verge of upheaval. And the force underlying the change comes from China, where finance and technology are being merged into a system with consequences that resonate far beyond China's border. The changes of this global revolution in finance and technology - fintech - will be as powerful as those wrought in social media, retailing and advertising by giants such as Amazon, Facebook, Google, and Twitter, which have overturned how we shop and communicate.

China reinvented money with lightning speed, transforming a backward, antiquated cash-based finance system into one centered on super-apps created by technology giants Alibaba and Tencent. More powerful than anything available outside of China, they allow their billion users to pay, borrow, invest, buy goods and services, travel, chat (and far more) all fused together in one mobile phone application. Think Facebook, Google, Twitter, Goldman Sachs, Amazon, J.P. Morgan Chase all rolled into one app.

We in the West need to understand China's cashless revolution for reasons ranging from the macroeconomic to issues of personal liberty: The cutting edge of finance is now in China, forcing major financial firms in the United States and the West to figure out how not to be left behind.. China's cashless revolution is also a harbinger of our future if we let the genie out of the bottle and allow big tech to become big finance. As money goes digital and central banks around the world consider launching digital currencies, we may have both immense convenience and a frightening concentration of power that could violate our privacy, stifle competition, increase financial risk, and give big firms or the government more control over our financial lives. And, once this genie is out of the bottle, the struggle to put it back in may be impossible.
 
About the Author
---
Martin Chorzempa is senior fellow at the Peterson Institute for International Economics. He lived in China from 2013 to 2015, where he conducted research on China's economy and financial system, first as a Luce Scholar at Peking University's China Center for Economic Research and then at the China Finance 40 Forum, China's leading independent think tank. Martin graduated from the Harvard Kennedy School of Government with a masters in public administration in international development. He has appeared on NPR multiple times, including recently to discuss issues including digital currency and the fate of Chinese firms in US equity markets. He is regularly cited in major media on issues of Chinese technology regulation, digital currency, fintech, and US-China economic relations, including in the Wall Street Journal, New York Times, Financial Times, The Economist, Washington Post, MIT Technology Review, and Foreign Affairs.
 
Praise For…
---
"China is profoundly important, fintech is profoundly important, so how they come together will have much to do with how the global financial system plays out. The Cashless Revolution is a very valuable and important summary of the relevant issues."
—
Lawrence H. Summers, Charles W. Eliot University Professor, Harvard University, and former secretary of the treasury
"A comprehensive, highly readable look at China's cashless revolution: what went right, what went wrong, and how we can learn from China's experience as we strive to modernize our own payments system."—
Sheila Bair, former chair of the US Federal Deposit Insurance Corporation
"In this superb account, Chorzempa chronicles the breakneck speed in the development of the fintechs in China, starting from their humble origins as payment add-ons in e-commerce to all-seeing big techs that later incur the ire of the authorities, all within the space of ten years. Chorzempa's sure grasp of the political economy provides much-needed context to understand current developments.
The Cashless Revolution
is a must-read for any serious observer of digital innovation and of China."—
Hyun-Song Shin, Bank for International Settlements
"Chorzempa brings us an extraordinary look into the future of money and with it, the future of both global power and daily life. Having taught himself Mandarin and immersing in Chinese life, he tells the incredible story of the rise of China's powerhouse fintechs—their reining in by the Chinese government, and the dilemmas now facing all the world in seeking to harness the leveling power of technology while protecting privacy and averting state power on a scale never seen before—enabled by financial technology. Equal parts business chronicle, social and political analysis, and storytelling,
The Cashless Revolution
is one of those rare books that opens readers' eyes. The world will never look the same."—
Jo Ann Barefoot, CEO and founder, Alliance for Innovative Regulation, and former deputy controller of the currency
"
The Cashless Revolution
is a fascinating analysis of how Chinese entrepreneurs, despite setbacks along the way, transformed Chinese finance from a low-tech backwater to the world's largest and most-advanced market for digital finance."—
Nicholas Lardy, author of The State Strikes Back
"China is at the forefront of digital financial innovation, from mobile payment to online investment, and from digital lending to central bank digital currency. While rapidly transforming the financial structure, Chinese fintech also created immense new challenges for the policymakers. The Cashless Revolution offers an authoritative analysis of this very dynamic new financial sector—what happened, which factors contributed to the dramas, and where it will likely head."
—
Yping Huang, Peking University
"[T]he book is an authoritative, comprehensive and thoughtful account of a remarkable episode in technology and finance that offers lessons for the United States as it seeks to encourage innovation in finance without putting consumer or financial stability at risk."—
Washington Post
"Based on the author's experience of living in China during the period when the country's fintech industry underwent its most dramatic advances, 
The Cashless Revolution: China's Reinvention of Money and the End of America's Domination of Finance and Technology
 establishes Chorzempa as a leading light on the subject, whose views are bound to carry significant weight in financial capitals—deservedly so."—
Centre for International Governance Innovation
"The days of hard cash may be numbered. Having invented paper money more than 1,000 years ago, China is now leading the charge into credit-card free online payments… Martin Chorzempa's
The Cashless Revolution
engagingly describes this state of affairs and, along the way, presents a cautionary tale, since dozens of countries around the world are contemplating the launch of their own digital currencies."—
Wall Street Journal