Empathy Economics: Janet Yellen's Remarkable Rise to Power and Her Drive to Spread Prosperity to All (Hardcover)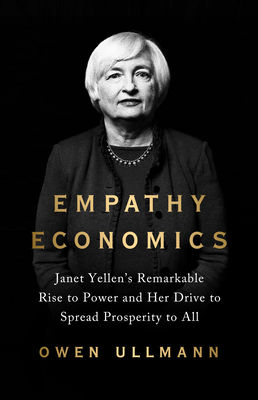 $32.00

Not Available In-Store - Usually Ships from Warehouse in 1-5 Days
Description
---
Named one of Investopedia's 7 Best Economics Books of 2022

The trailblazing story of Janet Yellen, the Ruth Bader Ginsburg of economics, and her lifelong advocacy for an economics of empathy that delivers the fruits of a prosperous society to people at the bottom half of the economic ladder. 

When President Biden announced Janet Yellen as his choice for secretary of the treasury, it was the peak moment of a remarkable life. Not only the first woman in the more than two-century history of the office, Yellen is the first person to hold all three top economic policy jobs in the United States: chair of both the Federal Reserve and the President's Council of Economic Advisors as well as treasury secretary.

Through Owen Ullmann's intimate portrait, we glean two remarkable aspects of Yellen's approach to economics: first, her commitment to putting those on the bottom half of the economic ladder at the center of economic policy, and employing forward-looking ideas to use the power of government to create a more prosperous, productive life for everyone. And second, her ability to maintain humanity in a Washington policy world where fierce political combat casts others as either friend or enemy, never more so than in our current age of polarization.

As Ullmann takes us through Yellen's life and work, we clearly see her brilliance and meticulous preparation. What stands out, though, is Yellen as an icon of progress—the "Ruth Bader Ginsburg of economics"—a superb-yet-different kind of player in a cold, male-dominated profession that all too often devises policies to benefit the already well-to-do. With humility and compassion as her trademarks, we see the influence of Yellen's father, a physician whose pay-what-you-can philosophy meant never turning anyone away. That compassion, rooted in her family life in Brooklyn, now extends across our entire country.
About the Author
---
Owen Ullmann's five-decade career in journalism began as a reporter for The Elizabeth N.J. Daily Journal. More recently he has held senior management and editorial positions at USA Today. Prior to USA Today he spent six years at Business Week magazine, where he managed the Washington Bureau as senior news editor. From 1983 to 1993, he worked in the Washington Bureau of Knight-Ridder Newspapers, covering economics, the White House and the State Department. He won two awards from the White House Correspondents' Association for his coverage of the Reagan Presidency. Owen worked for the Associated Press from 1973 to 1983, as automotive writer in Detroit, and later as labor writer and chief economics correspondent in Washington. He currently serves as executive editor and Washington columnist for The International Economy, a quarterly magazine written for central bankers, finance ministers, financiers, and academics. He previously wrote a critically acclaimed biography of David Stockman, President Ronald Reagan's brilliant and brash budget director.
Praise For…
---
"With extraordinary access to an extremely busy Janet Yellen as well her family, close friends, and colleagues, Owen Ullmann traces the path Yellen took from Fort Hamilton High School in Brooklyn to the highest rungs of the US government with exacting detail and insight. Ullmann reveals how Yellen overcame obstacles, outmaneuvered hostile men, and held onto all the values that led her to study economics in the first place—all to the great benefit of the American people. When you finish this book, you really know who Yellen is and why she has been so successful and influential."—David Wessel, the Brookings Institution, author of Only the Rich Can Play

"Few people have had as great an impact on America's economy as Yellen, the first woman to serve both as chair of the Federal Reserve and as treasury secretary. In Empathy Economics, Ullmann masterfully traces her rise from precocious Brooklyn schoolgirl to the corridors of power in Washington. Ullmann artfully weaves together Yellen's life and career, showing how her lived experience informed her view of economic policies that put American families at the forefront. This deeply human portrait brings to life one of the country's towering trailblazers, who is still paving the way for women in economics and beyond."—Joanne Lipman, author of That's What She Said, and former editor-in-chief, USA Today

"Empathy Economics is a terrific read, well researched, and well written. Ullmann captures the characteristics that have made Yellen the leader of three of the nation's key economic-policy institutions, the Council of Economic Advisers, the Federal Reserve, and the Treasury—the only person to have held all three positions. Yellen combines sharp intelligence, and a deep commitment to fact-based objective economic analysis, with empathy, a big heart, and a deep dedication to public service. She is strong yet humble; she has taken on leadership roles and their onerous 24/7 responsibilities not for prestige or power but to improve the lives of ordinary Americans. No one has brought more knowledge, experience, and empathy to addressing the core economic challenges facing the nation. The book also provides a fascinating history of the evolution of Federal Reserve policy during Yellen's leadership, including the adoption of an explicit inflation target and greater transparency in Fed decision-making."—Laura Tyson, distinguished professor, Haas School, University of California; former chair, White House Council of Economic Advisers; and director, White House National Economic Council

"Ullmann's excellent biography of Yellen documents the origins and trajectory of Yellen's remarkable career and what lies behind her success—intelligence, diligence, and deeply held values of equity and inclusion that inform the content of her work as well as her working style. A valuable bonus is that Ullmann's clear explication of the issues that have confronted Yellen provides a thorough overview of the major financial, tax, and growth policies of the past several decades. Yellen's inspiring story of succeeding in a man's world to tweak economic policy at the highest levels and achieve positive outcomes for many is a good read. Every economist should apply her values to our discipline and profession to make economics much more useful and humane."—Heidi Hartman, research professor, George Washington University, and president, Institute for Women's Policy Research

"Spotlighting Yellen's empathy, an emotion often missing from the arcane world of economic policy … This is an enlightening study of a trailblazing yet 'unassuming' public figure."—Publishers Weekly

"An admiring portrait…Ullmann explains clearly the economic crises, decisions, and controversies that have marked Yellen's storied career. A warmly sympathetic, authoritative biography of a true public servant."—Kirkus

"Empathy Economics is a thorough, well-researched biography of Yellen's life and career, and also a crash course in the workings of the U.S. financial system…  Readers will emerge with a greater understanding of not only Yellen herself, but the system which she has worked for many years to improve—and a deep appreciation of the empathy that informs her policy work and her entire life."—Shelf Awareness

"In Empathy Economics, Owen Ullmann shows us a highly competent economist, but also someone with empathy for everyone, especially the disadvantaged… it's very rare to read a biography of someone so smart and accomplished, in so contested a field, where virtually everyone says how decent and nice the person is. It's a fascinating story, and one that gives due credit to a remarkable economist, policy leader, and woman."—Forbes

"A straightforward, pacey account of Ms. Yellen's trajectory, full of reflections from colleagues and friends."—The Economist

"[M]eticulous and laudatory."—Investopedia