Built to Belong: Discovering the Power of Community Over Competition (Paperback)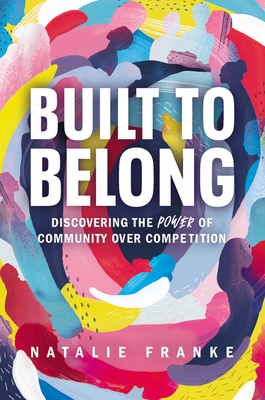 $17.99

Not Available In-Store - Usually Ships from Warehouse in 1-5 Days
Description
---
This fresh, inspiring call to community and connection from an entrepreneur and leader is perfect for anyone feeling alone and ready to set off on a journey to true belonging.
Many of us feel more alone than ever despite living in the most connected society in human history. We need to belong in the same way that we need oxygen–our physical bodies require it. We perform better and have greater successes as individuals when we are connected to the collective.
Join author Natalie Franke as she shares her story of longing for connection in the chaos and lessons learned on her journey to true belonging. Together we'll uncover how to:
Kick scroll-induced jealousy to the curb and transform the way that social media makes you feel about yourself and others
Overcome loneliness by finding your people and cultivating true community in your personal and professional world
Strike the balance between camaraderie and competition so that you can live a deeply fulfilled and joyful life
Human beings are not highlight reels—we're done fanning the flames of comparison, drowning in our insecurities, and being pitted against one another. We're saying no to the endless rat race of getting ahead and goodbye to the narratives that leave us feeling left out and alone.
We are destined for something better. We're made for so much more. Because knit into the fabric of our DNA, we were
Built to Belong
.
About the Author
---
Natalie Franke is one of the founders of the Rising Tide Society—a community of 77,000 creative entrepreneurs who gather in over 400 cities around the world in the spirit of community over competition. She took a hashtag (#communityovercompetition) and turned it into a movement and vibrant community that now spans the globe. Natalie currently lives in Annapolis, Maryland with her husband and son, and serves as the Head of Community for HoneyBook and Rising Tide—leading a team of world changers in the pursuit of empowering the creative economy to rise together doing what they love.
Praise For…
---
"Natalie challenges us to change our perspectives on business and relationships. If you have a narrative in your head that the other person is your competition and not your friend, that soundtrack is going to encourage you to miss so many new opportunities. Natalie confronts the scarcity and competition mentality head on in a way that proves there's plenty to go around."
—
Jon Acuff, New York Times bestselling author of Soundtracks
"
A call to arms
—heart is always more valuable than hustle, and community is always more important than competition. Natalie inspires us to lean into vulnerability and paints a vision for how you can link arms in business and friendship."—
Emily Ley, bestselling author of Growing Boldly
"A counter-cultural must-read! Business is all about relationships and yet, we are often in crazy, cutthroat competition with one another. Natalie reminds us that it doesn't have to be that way! We can be successful women with drive and ambition and still make people our priority."
—
Lindsay Teague Moreno, bestselling author of Boss Up!
"This message is one the world desperately needs right now. With a
heart-on-sleeve style of storytelling
, Natalie doesn't hold back—her words are
raw
,
rich
, and
necessary
for anyone who feels like they're wrestling with belonging. Natalie takes you by the hand to guide you with her wisdom and vulnerability. If you're longing for a shift in the way you see and find community, this book is a beautiful first step."—
Hannah Brencher, author of Fighting Forward
"
Riveting. Relevant. Radical.
 In a world where people are challenged by the vicissitudes of life and the virus of loneliness, along comes a message in the bottle that simply says we
belong
.  Every organization that believes people are more important than profit should consider this book required reading. I am going to recommend it to every leader, individual, organization that I know. A timeless classic that has arrived in the nick of time."—
Dr. Simon T. Bailey, Executive Coach, Author, and Thought Leader
"Natalie Franke is
a champion of people
—people over perfection, people over performance, people over competition.
Built to Belong
is both practical and inspirational—an important read for creatives and business leaders about why we should link arms, and the amazing gift of community over competition."—
Jess Ekstrom, author of Chasing the Bright Side
"If you want to make a greater impact and find more meaning in life, don't do it alone.
Tap into the power of the collective.
Natalie's calls to action in
Built to Belong
are the perfect blueprint to widen and deepen your relationships so you can grow your community, business and heart."—
Antonio Neves, author of Stop Living on Autopilot
"An engaging and inspiring read that makes plain
the power that genuine human connection can have
on our lives and businesses; a fact I've personally witnessed in Natalie's work as Head of Community at HoneyBook | Rising Tide. The book is an important reminder that we can go further and reach our goals faster when we go together."—
Oz Alon, CEO of HoneyBook