The Amazing Afterlife of Animals: Messages and Signs From Our Pets On The Other Side (Paperback)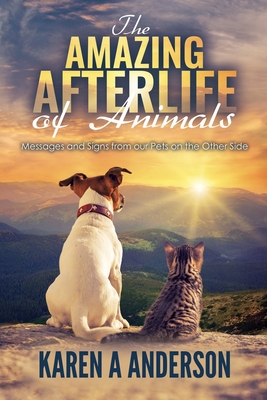 $12.97

Not Available In-Store - Usually Ships from Warehouse in 1-5 Days
Description
---
#1 Bestseller & Winner of 16 National and International Literary Awards
If you are grieving the loss of your beloved pet the uplifting and insightful stories within these chapters will help you break through your grief so you can begin healing.
Included are actual messages from departed animals who share details about what they experienced as their life ended and from beyond the veil of the afterlife.
You will discover how pets feel about dying, euthanasia, cremation, reincarnation and so much more.
Award-winning Animal Communicator and Afterlife Expert, Karen Anderson, reveals tantalizing evidence that our pets communicate with us throughout their lives as well as after their physical death.
This former deputy sheriff shares how she followed this unusual path of understanding the animals and discloses actual cases where pets on crime scenes provide eye-witness accounts.
The detailed accuracy of the animals' messages may surprise you and may even present new perspectives about life after death.
Discover how your pets send signs from the Other Side.
The powerful bonds of love never die as you journey into the amazing afterlife of animals.
What messages await you?

Winner of these prestigious NATIONAL and INTERNATIONAL literary awards:
#1 Bestseller on Amazon Pets/Animals/Misc
Winner 2018 International Book Awards - Pets/Animals
Winner 2018 Next Generation Indie Book Awards
Winner 2018 Pinnacle Book Achievement Award
Winner 2018 Indie Book Awards Winner
Winner 2018 Gold Solo Medalist New Apple Book Awards - Grief
Winner 2018 Beverly Hills Book Awards - Grief
Silver Medal Winner 2018 - Readers Favorite Book Awards - Grief
Silver Medal Winner 2017 Nautilus Book Awards - Gift/Specialty
Finalist 2019 Topshelf Book Awards
Finalist 2018 Beverly Hills Book Awards - Pets
Finalist 2018 International Book Awards - New Age/Non-Fiction
Finalist 2018 International Book Awards - Spirituality/Inspirational
Finalist 2018 International Book Awards - Best Cover Design Non-Fiction
Finalist 2018 Best Book Awards Non-fiction - Pets
Finalist 2018 Best Book Awards Non-fiction - New Age
Finalist 2018 Best Book Awards Non-fiction - Best Cover Design
About the Author
---
This is the second book for award-winning Animal Communicator and Psychic Medium, Karen Anderson. In consecutive years, Karen won first and second place in the Reader's Choice Awards in the Favorite Animal Communicator category. Karen discovered her ability to understand the animals as a child. In her first book, Hear All Creatures!, Karen shares how she sharpened those intuitive abilities over the years to become a professional Animal Communicator Now with over twenty years of experience, Karen has connected with over 15,000 pets helping to resolve behavior problems, health concerns, and end of life decisions. Karen has also collaborated with Dr. Patricia Carrington, Ph.D. for her book, The Secret Inner Life of Pets, and has contributed to Amazing Paranormal Encounters, Volume 2. Karen's gift also enables her to communicate with departed humans. By combining these psychic abilities with her law enforcement background as a former deputy sheriff, she helps solve cold cases bringing closure to victims and their families. Karen has been a guest on many shows such as Coast to Coast with George Noory, Darkness Radio with Dave Schrader, and Beyond Reality Radio with T.A.P.S. founder, Jason Hawes, lead investigator for the popular television show, Ghost Hunters. Karen is a keynote speaker at numerous paranormal and psychic events. She also teaches online courses through her website called Animal Communication Planet. Karen makes her home in the Inland Pacific Northwest, where she lives on a farm with the animals she loves. Karen's website: www.KarenAnderson.net
Praise For…
---
My cat, Johnny Angel, was having some problems so I began my search for an animal communicator. My session with Karen was so profound that my connection with sweet Johnny has been transformed. That amazing marvelousness jumps from the pages of her inspiring book, "The Amazing Afterlife of Animals" and will take your relationship with your pets, on this side and the next, to new horizons!

Annie Kagan, author of the international bestselling book,
The Afterlife of Billy Fingers: How My Bad-Boy Brother Proved to Me
There's Life After Death.



Karen Anderson has successfully captivated us again with this new and beautifully insightful look at the afterlife. She shares in vivid detail what our pets are thinking and feeling as they arrive at, and settle into the Other Side. This book is sure to capture your heart and soul as Karen takes you on a wonder-filled spiritual journey. Her detailed images and heartwarming stories bring much-needed healing to all of us who have ever loved and lost,
a beloved animal companion.

Dannion Brinkley, author of the New York Times bestselling books, Saved By The Light, Secrets of the Light, At Peace in the Light



5 Star Review From "Readers Favorite"
The Amazing Afterlife of Animals by Karen A. Anderson is so much more than I expected it to be when I started reading. Karen took me on a journey with her as she stumbled through life, trying to find her path and her calling. Since childhood she had recognized that she had a unique gift; she was able to communicate with animals that were both living and dead. Unfortunately, her gift was received with negative responses and disbelief and, because of that, she ended up hiding her gift and even suppressing it somewhat. She describes several careers that she experienced and how they all kept bringing her back to one thing - the animals. Karen shares several stories that are heartwarming reminders how our beloved pets are a part of us and never really leave us even after they cross over.

The Amazing Afterlife of Animals is an inspiring book that not only helps animal lovers like myself come to terms with the passing of my furry family members, but also inspires me to be brave enough to follow my intuition and give myself permission to follow my dreams. I found myself shedding tears one moment and then laughing the next moment at the light-hearted humor, which is clearly a part of Karen's personality. The writing is smooth and engaging and kept me turning the pages to see what would come next. This is a book that every pet lover should read. I highly recommend this book and this author. I will be looking up her other titles. Karen, you have gained a fan.
-Deanna R. Sweeney, Readers Favorite