Liars, Leakers, and Liberals Lib/E: The Case Against the Anti-Trump Conspiracy (Compact Disc)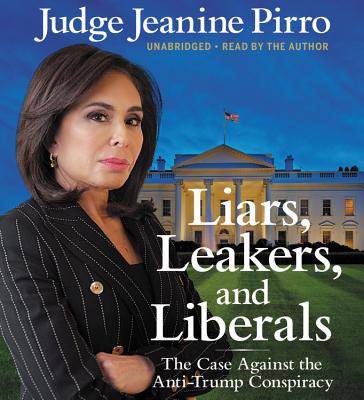 $69.99

Special Order - Subject to Availability
Description
---
As an online commentator and host of her own show on Fox for many years, Judge Jeanine Pirro has seen firsthand how narratives take form, whether they are based in truth or not. In her explosive new book, she will write about some of the most egregious lies she's seen, and also interview various people who have been affected by fake news stories. Judge Jeanine will begin at her home base, Fox, and discuss her own experiences.
Judge Jeanine believes that many modern-day feminists are promoting the lie that women have been oppressed by men since the beginning of time. She'll talk about Hillary Clinton, and the lie that if you didn't support her, you are a woman hater. Judge Jeanine will interview Ivanka Trump about this, and mention the different ways mainstream press talks about conservative women vs liberals.
No topic is off limits in Liars, Leakers and Liberals. Judge Jeanine will take on:
AntifaBlack Lives Matter and the media lie that set off race riots around the countryObama - The reality of what Trump inherited regarding foreign and domestic messesTrump - How the media has twisted his words to fit the narrative they've created, including firsthand accounts from people like Eric Trump and Corey LewandowskiAnonymous sources and what can be done to curb the damage they doLeakers in the White House - why it really is a big deal, examples through history of leakersSafe Spaces - The world is not safe. If you're old enough to go to war, you're old enough to hear an opinion you don't like.
Liars, Leakers and Liberals is Judge Jeanine's no-holds-barred answer to fake news, and it promises to be an enlightening and provocative listen