The Complete Ballet: A Fictional Essay in Five Acts (Paperback)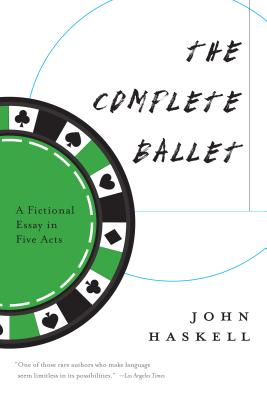 $16.00

Special Order - Subject to Availability
Staff Reviews
---
When I first picked this book up, I'll admit I was skeptical. If you're anything like me, you might not think a book about ballet sounds particularly interesting. But take my word for it: this wonderful little hybrid is utterly mesmerizing. John Haskell's hypnotic voice and stream-of-consciousness style had me entranced from the first page, and every word I read brought me deeper under his spell, sweeping me away into the breathtaking and heartbreaking worlds of the romantic era ballets. Haskell retells the stories of these classic dances with grace and reverence, and through them, he weaves a narrative of his own, a story as compelling as it is devastating. Artful, vivid, and ethereal, The Complete Ballet is a transcendent experience. Like the best kind of dreams, it transported me – and I didn't want to wake up.
— From
Jason's Picks
Description
---
A dark-hued, hybrid novel by a writer who "delivers our culture back to us, made entirely new" (A. M. Homes)

In The Complete Ballet, John Haskell choreographs an intricate and irresistible pas de deux in which fiction and criticism come together to create a new kind of story. Fueled by the dramatic retelling of five romantic ballets, and interwoven with a contemporary story about a man whose daunting gambling debt pushes him to the edge of his own abyss, it is both a pulpy entertainment and a meditation on the physicality—and psychology—of dance.

The unnamed narrator finds himself inexorably drawn back to the pre–cell phone world of Technicolor Los Angeles, to a time when the tragedies of his life were about to collide. Working as a part-time masseur in Hollywood, he attends an underground poker game with his friend Cosmo, a strip-club entrepreneur. What happens there hurtles the narrator down the road and into the room where the novel's violent and surreal showdown leaves him a different person.

As the narrator revisits his past, he simultaneously inhabits and reconstructs the mythic stories of ballet, assessing along the way the lives and obsessions of Nijinsky and Balanchine, Pavlova and Fonteyn, Joseph Cornell and the story's presiding spirit, the film director John Cassavetes. This compulsively readable fiction is ultimately a profound and haunting consideration of the nature of art and identity.
About the Author
---
John Haskell is the author of Out of My Skin, American Purgatorio and of the short-story collection I Am Not Jackson Pollock. A contributor to the radio program The Next Big Thing, he lives in Brooklyn, New York.
Praise For…
---
"The Complete Ballet is a very absorbing, even thrilling, novel. . . . Haskell's achievement lies in both the sustained emotional stakes of his book and in the fruitful experiment in adaptation and ekphrasis."—New Republic

"[The Complete Ballet] feels like a formal breakthrough. The result is something both spontaneous and sculpted, fragmented yet also fluid, a construction that mimics the ever-changing contours of a broken heart."—BOMB Magazine

"Chances are good that you've never read a book quite like The Complete Ballet, a genre-bending mix of dance criticism and novel/fictional memoir that is unique in concept and execution. It is by turns engaging, illuminating, ridiculous, funny, heart-wrenching, and educational."—Washington Independent Review of Books

"It's this shape-shifting insistence we have as humans, as dancers trying our best not to collide with each other, that seems to be at the core of The Complete Ballet, and Haskell does a beautiful job suggesting the risky nature of this life."—PopMatters

"Using words to describe a primarily physical art form, in turn allowing those described steps and gestures to stand in where words cannot, makes Haskell into both choreographer and writer, and characters into dancers and vice versa. Its absorbing experiment—using one art to enhance and test another—also creates the dualism of our role as both reader and audience, positing us both in our seats and backstage, peering from the wings onto the stage, watching the spotlight drift from dancer to dancer."—Ploughshares

"The artfulness and compelling power of [Haskell's] prose is deceptive in its apparent simplicity: and raises the question of how it can be so funny, insightful and lightly worn. . . . The Complete Ballet is full of narrative surprises — often from one sentence to another. It can be read as a sophisticated noir novel even as it pointedly undercuts its own sophistication. . . . The writing on the page appears effortless. Grounded in its Cassavetes-influenced noir story, Haskell has composed a complete ballet that's funny, harrowing, dark, and vertiginous."—3:AM Magazine

"The Complete Ballet is a marvelously inventive and compelling novel."—Largehearted Boy

"Spellbinding. . . . The expertise [Haskell] demonstrates about ballet engenders comfort, a sense of being in good hands, being told exactly what's necessary. The book shifts regularly from fiction to criticism, from biography to character study, in gentle, expert scene changes visible on the stage."—Anomaly

"The Complete Ballet reads like a gracefully choreographed dance. It leaps between truth and fiction, romance and crime, grabbing the reader by the hand and leading you gracefully onto the stage and into literary meditation. John Haskell is a master."—Parnassus Musing

"Fiction and essay share the stage in Haskell's captivating, erudite novel. . . . In imaginative, analytical, affectless prose, Haskell gives new life to well-known stories danced onstage, constructing interiorities and motivations for the characters, and drawing connections between the emotions of the ballets and his narrator's story."—Publishers Weekly

"[The Complete Ballet] blurs the line between fact and fiction, action and meditation, telling a story or a series of stories while at the same time reflecting on what they mean. The subject is ballet, about which Haskell is knowledgeable and astute. . . . He writes deftly, meaningfully, about the fluidity of experience and the self."—Kirkus Reviews