A Lucky Man: Stories (Hardcover)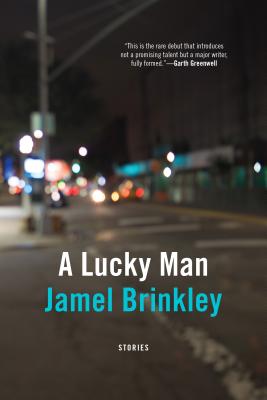 $26.00

Special Order - Subject to Availability
Staff Reviews
---
A Lucky Man marks the arrival of a brilliant new voice in contemporary fiction. In quiet, elegant prose, debut author Jamel Brinkley renders characters who are universally relatable yet entirely unique, with all the complexities and subtleties of living breathing people. As I read their stories, I was swept up into the lives of these characters, so much so that at times I forgot I was reading fiction and felt instead that I was reading letters from old friends. This is an important and powerful collection. Its slice-of-life stories glow with soft light, and by their gentle radiance, we can see rich details and vibrant beauty in the dark corners of human experience. Every moment held me in silent awe.
— From
Jason's Picks
Summer 2019 Reading Group Indie Next List
---
"Everything about this book is so precise—the language, the characters, the places. It's such a beautiful rumination on masculinity and how that intersects with growing up, being a person of color, and the many ways in which one navigates relationships, all without a word out of place. It's an utterly killer debut, and I look forward to seeing everything that Brinkley has to offer the literary world."
— Kelsey Nolan, Skylight Books, Los Angeles, CA
Description
---
FINALIST FOR THE NATIONAL BOOK AWARD FOR FICTION
In the nine expansive, searching stories of A Lucky Man, fathers and sons attempt to salvage relationships with friends and family members and confront mistakes made in the past. An imaginative young boy from the Bronx goes swimming with his group from day camp at a backyard pool in the suburbs, and faces the effects of power and privilege in ways he can barely grasp. A teen intent on proving himself a man through the all-night revel of J'Ouvert can't help but look out for his impressionable younger brother. A pair of college boys on the prowl follow two girls home from a party and have to own the uncomfortable truth of their desires. And at a capoeira conference, two brothers grapple with how to tell the story of their family, caught in the dance of their painful, fractured history.
Jamel Brinkley's stories, in a debut that announces the arrival of a significant new voice, reflect the tenderness and vulnerability of black men and boys whose hopes sometimes betray them, especially in a world shaped by race, gender, and class—where luck may be the greatest fiction of all.
About the Author
---
Jamel Brinkley's stories have appeared in A Public Space, Gulf Coast, and elsewhere. He is a graduate of the Iowa Writers' Workshop and has been a Wisconsin Institute for Creative Writing Fellow. He lives in Madison, Wisconsin.
Praise For…
---
"Each story is a trenchant exploration of race and class, vividly conveying the tension between social codes of masculinity and the vulnerable, volatile self."—The New Yorker
"[A Lucky Man] is intent on recognizing what masculinity looks like, questioning our expectations of it, and criticizing its toxicity—and somehow managing to do all of that with love. . . . The collection may include only nine stories, but in each of them, Brinkley gives us an entire world."—NPR.org

"With equal parts precision and poetry, these nine audacious stories step into the minefields awaiting boys of color as they approach manhood in Brooklyn and the Bronx—testing the limits of relationships, social norms, and their own definitions of masculinity."—O, The Oprah Magazine
"Through pages of peerless prose and startlingly sharp sentences, what ultimately emerges is a constantly reframed argument about the role and power of masculinity, where vulnerability pulses beneath a skin of self preservation."—Los Angeles Times
"Brinkley's collection A Lucky Man, already creating waves within the literary sphere, manages to be simultaneously polemical and immersive, in a series of tenderly insightful studies of masculinity, race, and the scars of history."—Entertainment Weekly
"The stories hit with a silent thunder that reverberates within you long after you've finished them."—San Francisco Chronicle
"Brinkley shows both the great beauty and ugliness of humanity—but always with empathy—and captures the ways in which our world is defined and divided by power."—BuzzFeed
"What a distinct pleasure it is to get in on the early side of a burgeoning career, to read a work that introduces a new and important voice in the literary world. The stores in Jamel Brinkley's debut are both confident in their execution and profoundly moving in their style."—Maris Kreizman, Vulture
"Amazingly insightful and emotionally nuanced."—Curtis Sittenfeld, Vulture
"Spectacular. . . . Quite simply stunning. . . . [Jamel Brinkley] shines a light on difficult truths."—Nylon

"A well-deserved finalist for the National Book Award for Fiction, these sharply focused and elegantly written stories grapple with race, relationships and the many facets of that complex beast, masculinity. . . . Jamel Brinkley hits the mark and leaves a profound impression."—Malcolm Forbes, Star Tribune (Minneapolis)
"All the pieces in A Lucky Man offer exquisitely crafted glimpses into the lives of black men and boys living in New York. . . . This is Brinkley's first collection, and if his talent for exacting vivisection of his protagonists continues, he'll be a talent to reckon with."—Vox
"An unmissable debut short story collection, Jamel Brinkley's poignant A Lucky Man is revelatory in its crafting of prose and language. A wonderful read."—The Root
"Beautifully wrought. . . . Brinkley synthesizes empathy and accountability with controlled, sharp lyricism and a big steady heart."—Shelf Awareness
"With a wise and wistful touch, Brinkley offers us a series of portraits of black men—New York City natives, all—who cannot square their desires with the demands of a culture that expects masculinity, self-sufficiency and confidence. . . . There is an effortless feeling to Brinkley's sentences, a casual beauty that lends poignance to all his confused boys, his sad and angry men."—Longreads
"Full of grace, complexity, and candor."—Merriam-Webster.com
"Brinkley's commitment to creating complex characters and allowing them to exist as they are, regardless of the consequences, is one of his many strengths. . . . The precision through which Brinkley employs detail gives his stories such a rich and singular feel that it's hard to compare him to anybody."—The Adroit Journal
"A collection as fine as this, of fiction that is reflecting our world and searching for the truth, is one to be treasured, read and reread, admired, and loved."—Ploughshares
"This is an assured and important collection that could not be more timely."—Kenyon Review
"A Lucky Man . . . reminds me of Moonlight. . . . Brinkley explores black men under both the pressurized violence and bottled up tenderness that undoes them at every turn. This is a book that acknowledges male stereotypes while subverting them and exploring the psychic damage they leave in their wake."—KQED, "The Spine"
"In Brinkley's work, no character is left untended, no aspect of identity is overlooked, and the results are well-inhabited worlds that feel infinite. . . . A Lucky Man is not only a standout debut for the year, but also a testament to what can be achieved in a short story."—Chicago Review of Books
"Among A Lucky Man's many wonderful accomplishments—the way the length of each story affords its characters room to move; the use of linear, progressive time to knit the individual stories into a social fabric, a` la Alice Munro or Wideman—one in particular is genuinely path-clearing. Brinkley offers visions of manhood and masculinity that demonstrate candor without false intensity, desire without ownership. His male characters have fictional experiences that, in the hands of the right reader, can become equipment for living."—Los Angeles Review of Books
"Brinkley's stories are precious without being fragile. They're quiet, masterpieces in mood, tone, characterization, and family dynamics."—PopMatters
"Each of Brinkley's true-to-life stories offers the reader marvelous depth and insight into the complex emotional landscapes of America's wayward sons."—Duende
"With stunning clarity and generosity of detail, each of the nine stories leaves its own lasting impression, while the book as a whole coalesces into a devastating tapestry of confused masculinity, familial responsibility, and the intractable power of privilege to impede upon and redraw the boundaries of a life."—American Short Fiction
"Brinkley's debut collection, A Lucky Man, comprised of tenderly poignant narratives of boys becoming men, of fractured intimacy, of masculinity as learned performance, is vital and necessary."—The Masters Review
"An assured debut collection. . . . It's difficult to single out any story as most outstanding since they are each distinguished by Brinkley's lyrical invention, precise descriptions of both emotional and physical terrain, and a prevailing compassion toward people as bemused by travail as they are taken aback by whatever epiphanies blossom before them. A major talent."—Kirkus Reviews, starred review

"With this memorable collection, Brinkley emerges as a gifted and empathetic new writer."—Booklist, starred review
"The nine stories in Brinkley's promising debut address persistent issues of race, class, and masculinity across three decades of New York City's history. . . . Brinkley's stories offer penetrating perspectives and stirring tragedies."—Publishers Weekly