Why Can't I Fix It?: The Questions We Ask When We Love Someone with Addiction (Paperback)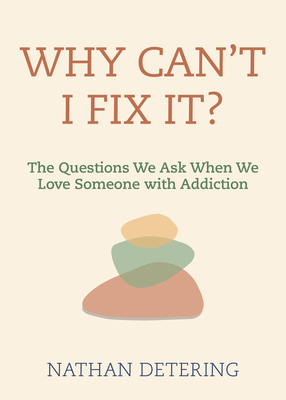 Description
---
Why is this happening? How do you care for yourself and your family? If you are struggling with a loved one's addiction you are not alone. A compassionate resource for anyone stuck between a rock and a hard place.
When Rev. Nathan Detering shared the story of his brother's death from a drug overdose with the members of his congregation, many of them shared their own addiction stories with him. Realizing the healing power of sharing stories and questions in community, Rev. Detering conducted interviews to identify and address the common questions that haunt us when we love someone with addiction. In conversations both within and outside his community, he heard the palpable need for those struggling with a loved one's addictions to know they are not alone.
Weaving together his own and others' deeply felt experiences of addiction, Why Can't I Fix It? responds to sometimes desperate questions such as: Why is this happening? What can you do? What can't you do? How do you care for yourself and the rest of your family? Can you trust your community to support you and your family? While the answers to these questions aren't easily found, Why Can't I Fix It? encourages those of us who are struggling with a loved one's addictions to practice self-care and self-compassion, understand the cultural context for emotional responses and expectations of ourselves and others, and reach out for support.
About the Author
---
Nathan Detering serves as the senior minister of theUnitarian Universalist Area Church at First Parish in Sherborn, Massachusetts, a position he has held since 2003. His passions in ministry include sustainingone's ministry without overworking or over-functioning; writing for pew, pulpit, and public square; and mentoring students. Prior to seminary, Rev.Detering served for two years as a Peace Corps Volunteer in Grenada, WestIndies. He lives in Holliston, Massachusetts, with his family.