Identity Envy Wanting to Be Who We're Not: Creative Nonfiction by Queer Writers (Paperback)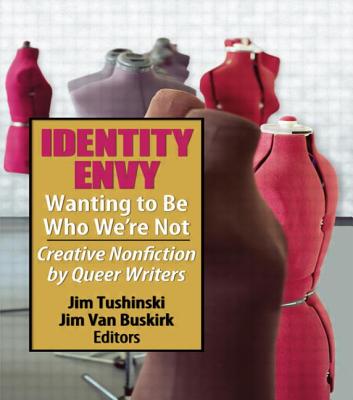 $69.95
Email or call for price.
Description
---
Gay men and lesbians present humorous and hard-hitting accounts of the need to belong . . . somewhere
Why would a lesbian raised in a Jewish home have a sudden desire to be a tough-talking Catholic girl? And why would a gay man travel to Ireland in a desperate attempt to escape his hillbilly roots? Identity EnvyWanting to Be Who We're Not explores the connections gay men and lesbians have to religions, races, ethnicities, classes, families of origin, and genders not their own. This unique anthology takes both humorous and serious looks at the identities of others as queer writers explore their own identity envies in personal essays, memoirs, and other creative nonfiction. Gay men, lesbians, bisexuals, transgendered, intersex, and other sexual minorities often feel marginalized by mainstream culture and have a need to belong somewhere, to claim a group as their own. This surprising book presents stories of identity envy that are humorous and hard-hitting, poignant and provocative, written with energy, wit, and candor by many of your favorite writers-and some exciting newcomers. Identity EnvyWanting to Be Who We're Not includes:
Gerard Wozek's King Fu-infused Chasing the Grasshopper

Max Pierce's fantasy of being a Child Star that helped him through a troubled family life

Lori Horvitz's Shiksa in my Living Room

D. Travers Scott's EuroTex

Perry Brass's A Serene Invisibility: Turning Myself into a Christian Girl

Jim Tushinski's ode to Lost in Space, The Perfect Space Family

Al Cho's unlikely identification with Laura Ingalls Wilder characters, Farmer Boy

Irish-American John Gilgun wishes he could be one of those Italian-American Boys

Joan Annsfire rejects her Jewish heritage to become Catholic schoolgirl
Corinne O'Donnell in The Promise of Redemption

Andrew Ramer's Tales of a Male Lesbian

city slicker Mike McGinty's life with the cattle folk, You Picked a Fine Time to Leave Me, Helen

and much more
Identity EnvyWanting to Be Who We're Not is a must-read for anyone who appreciates good writingespecially gay and lesbian readers who know what it's like to wish you were someone else.