The Girl from H.O.P.P.E.R.S.: A Love and Rockets Book (The Complete Love and Rockets Library) (Paperback)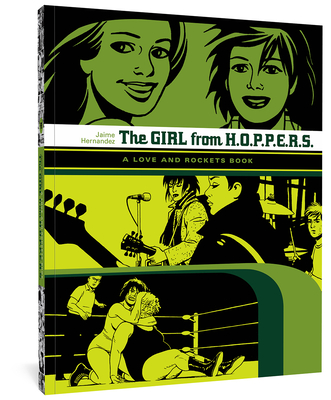 $19.99

Not Available In-Store - Usually Ships from Warehouse in 1-5 Days
Other Books in Series
This is book number 4 in the The Complete Love and Rockets Library series.
Description
---
Ripped from the pages of Love and Rockets: the second comprehensive "Locas" comics collection alternates between wrestling action and the Maggie, Hopey, and Ray D. love triangle.
In
The Girl from H.O.P.P.E.R.S.
, Hernandez refined his artistic storytelling approach, settling into the more naturalistic environment of a fictional Los Angeles neighborhood, Hoppers, and the lives of the people who live there. In stories like "The Death of Speedy," such is Jaime's mastery that even though the title telegraphs the end of the story, the downhill spiral of Speedy, the local heartthrob, is utterly compelling and ultimately shocking. Also in this volume, Maggie begins her on-again off-again romance with Ray D., leading to friction and an eventual separation from Hopey. This volume is the third in a comprehensive and chronological series,
The Complete Love and Rockets Library
, and the second that collects all of writer-artist Jaime Hernandez's "Locas" storyline in which characters change as they age in "real-time."
These stories, created between 1985–1991, first appeared in the long-running (and ongoing) Love and Rockets comics series, also featuring work by Jaime's brothers, Gilbert and Mario. L&R has been called "the greatest American comic book series of all time" by Rolling Stone and "a great, sprawling American novel" by GQ. It broke ground with its craft and the casual intersectionality of its huge and diverse casts of nuanced characters (many of whom are LGBQTIA+) who live and have relationships in often-naturalistic settings and situations. (Although L&R has SF and magical realist elements too). Along with contemporaries Chris Ware, Lynda Barry, and Daniel Clowes, the Hernandez brothers pushed the comics medium into new artistic heights.
About the Author
---
Jaime Hernandez was one of six siblings born and raised in Oxnard, California. His mother passed down a love of comics, which for Jaime became a passion rivaled only by his interest in the burgeoning punk rock scene of 1970s Southern California. Together with his brothers Gilbert and Mario, Jaime co-created the ongoing comic book series Love and Rockets in 1981, which Gilbert and Jaime continue to both write and draw to this day. Jaime's work began as a perfect (if unlikely) synthesis of the anarchistic, do-it-yourself aesthetic of the punk scene and an elegant cartooning style that recalled masters such as Charles M. Schulz and Alex Toth. Love and Rockets has evolved into one of the great bodies of American literary fiction, spanning five decades and countless high-water marks in the medium's history. In 2016, Hernandez won the prestigious Los Angeles Times Book Prize for his graphic novel, The Love Bunglers. In 2017, he (along with Gilbert) was inducted into the Will Eisner Comic Book Hall of Fame, and, in 2018, he released his first children's book, the Aesop Book Prize-winning The Dragon Slayer: Folktales from Latin America. He is a lifelong Angeleno.
Praise For…
---
A great, sprawling American novel... makes Gotham and Metropolis seem as bland as Scranton.
— GQ

These beautifully drawn stories feature some of the most believable, diverse, and indelible characters in the history of comics. 'The Return of Ray D.' and 'Spring 1982' changed my life, and are still among my favorite short stories in any medium.
— Adrian Tomine (Killing and Dying, Shortcomings)

I liked seeing the progression and development of the series (it was started in the 80s). The art is fantastic and H.O.P.P.E.R.S. stands as a complete world unto itself.

— Jillian Tamaki - Canada Reads (CBC Radio)

Everything Jaime does is genius, but I thought Ghost of HOPPERS was especially strong. Maybe my favorite since Wigwam Bam.

— M. Ace - Irregular Orbit

Jaime's illustration is beautiful and effortless. His characters mix a near perfect clear-line style with cartoonish expression, used with particular aplomb when emotions are running high. It's a masterclass in comic illustration.
— Grovel