Abandoned Cars (Hardcover)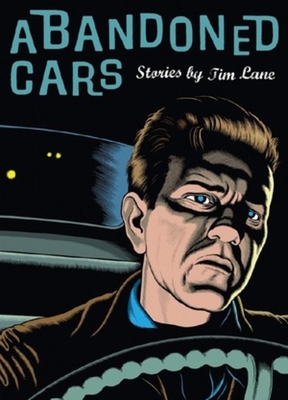 $22.99
Special Order - Subject to Availability
Description
---
America depicted as a subdued and haunted Coney Island, made up of lost characters—boozing, brawling, haplessly shooting themselves in the face, and hopping freight trains in search of Elvis. An impressive debut of a major new talent
Graphic shorts in a Jim Thompson vein.
Abandoned Cars
is Tim Lane's first collection of graphic short stories, noir-ish narratives that are united by their exploration of the great American mythological drama by way of the desperate and haunted characters that populate its pages. Lane's characters exist on the margins of society--alienated, floating in the void between hope and despair, confused but introspective. Some of them are experiencing the aftermath of an existential car crash--those surreal moments after a car accident, when time slows down and you're trying to determine what just happened and how badly you're hurt. Others have gone off the deep end, or were never anywhere but the deep end. Some are ridiculous, others dignified in their efforts to struggle to make sense of, and cope with, the absurdities, outrages, ghosts, and poisons in their lives.
About the Author
---
Tim Lane lives in St. Louis, MO, with his wife and daughter.
Praise For…
---
A brilliant debut....Abandoned Cars doesn't arrive at a clear-cut solution to the American Myth, but Lane's effort to understand it for himself is beautifully presented.

— William Jones

Dirty, greasy, and impossible to put down, Lane's hardcover debut was the perfectly-timed summing-up of The American Dream in all its power and tail-finned delusion.
— Alan David Doane

The book signals the arrival of a major new voice on the American literary landscape, with or without illustrations.

Lane's gorgeous black-and-white artwork — naturalistic with occasional leaps into the surreal — consistently lends tension as well as a quiet beauty to these various tales of struggle.
— Danny Graydon

When you put all the pieces together, you don't simply get a story or a group of stories, you get a book that pulls back the curtain on the collective unconscious of a nation. ... Like the myths that it is inspired by, Abandoned Cars lingers long after reading and grows in stature as you re-live and re-tell it.

— Chad Derdowski

The spirit of the Beats imbues the debut collection by Tim Lane… The stories are united by their sense of longing and melancholy. … His pen and ink style, reminiscent of Charles Burns, is extremely detailed and noirishly evocative.
— Mike Sebastian

It's the modern equivalent of the Raymond Chandler yarns that fill up the more exciting portion of your bookshelf — a string of police chases and back-alley fist fights with a surprisingly introspective thread running in the background.