Can I Trust the Bible? (2017) (Crucial Questions #2) (Paperback)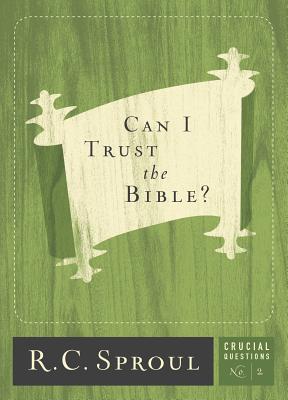 Other Books in Series
This is book number 2 in the Crucial Questions series.
Description
---
What is the Bible? Can we really trust it? Many people today assume that the Bible is full of errors and contradictions. At best, it is a mildly interesting look at the lives and beliefs of people who lived centuries ago.
While these assumptions may be common, they are wrong, as R.C. Sproul demonstrates in this Crucial Questions booklet. The reason is simple: the Bible is the Word of God. As such, it is trustworthy and authoritative, and what it says is of the utmost importance for every person. In this booklet, Dr. Sproul defines and defends the Bible as God's unique special revelation to mankind and as worthy of our trust.
About the Author
---
Dr. R.C. Sproul, the founder and chairman of Ligonier Ministries, is known for his ability to communicate the deep truths of the Christian faith. He is chancellor of Reformation Bible College, preaches at Saint Andrew's Chapel, and is the featured teacher on the daily radio program Renewing Your Mind. He has written more than one hundred books.