Not for the Faint of Heart: Lessons in Courage, Power, and Persistence (Paperback)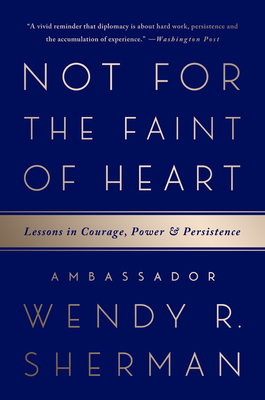 $17.99

Not Available In-Store - Usually Ships from Warehouse in 1-5 Days
Description
---
Distinguished diplomat Ambassador Wendy Sherman brings readers inside the negotiating room to show how to put diplomatic values like courage, power, and persistence to work in their own lives.

Few people have sat across from the Iranians and the North Koreans at the negotiating table. Wendy Sherman has done both. During her time as the lead US negotiator of the historic Iran nuclear deal and throughout her distinguished career, Wendy Sherman has amassed tremendous expertise in the most pressing foreign policy issues of our time. Throughout her life -- from growing up in civil-rights-era Baltimore, to stints as a social worker, campaign manager, and business owner, to advising multiple presidents -- she has relied on values that have shaped her approach to work and leadership: authenticity, effective use of power and persistence, acceptance of change, and commitment to the team.

Not for the Faint of Heart takes readers inside the world of international diplomacy and into the mind of one of our most effective negotiators -- often the only woman in the room. She shows why good work in her field is so hard to do, and how we can learn to apply core skills of diplomacy to the challenges in our own lives.
About the Author
---
Wendy R. Sherman is Senior Counselor at Albright Stonebridge Group and former Under Secretary of State for Political Affairs. In January 2019, Ambassador Sherman joined Harvard Kennedy School as a professor of the practice in public leadership and director of the School's Center for Public Leadership. She serves on the boards of the International Crisis Group and the Atlantic Council, and is a member of the Council on Foreign Relations and the Aspen Strategy Group.

Ambassador Sherman led the U.S. negotiating team that reached agreement on a Joint Comprehensive Plan of Action between the P5+1, the European Union, and Iran for which, among other diplomatic accomplishments, she was awarded the National Security Medal by President Barack Obama. Prior to her service at the Department of State, she was Vice Chair and founding partner of the Albright Stonebridge Group, Counselor of the Department of State under Secretary Madeleine Albright and Special Advisor to President Clinton and Policy Coordinator on North Korea, and Assistant Secretary for Legislative Affairs under Secretary Warren Christopher.

Early in her career, she managed Senator Barbara Mikulski's successful campaign for the U.S Senate and served as Director of EMILY'S list. She served on the President's Intelligence Advisory Board, was Chair of the Board of Directors of Oxfam America and served on the U.S. Department of Defense's Defense Policy Board and Congressional Commission on the Prevention of Weapons of Mass Destruction, Proliferation and Terrorism.
Praise For…
---
"Compelling... [Sherman] offers a vivid reminder that diplomacy is about hard work, persistence and the accumulation of experience... Future decision-makers can give themselves a huge head start simply by reading this book...the definitive account of the nuclear negotiation with Iran."—Jason Rezaian, Washington Post

"A powerful, deeply personal, and absorbing book written by one of America's smartest and most dedicated diplomats. This tale of courage and persistence will inspire readers of all backgrounds, while giving them unparalleled insights into some of the most critical issues of our time."—Madeleine K. Albright, 64th U.S. Secretary of State

"Wendy doesn't just write about the value of courage, power, and persistence, she lives it. She's an example that a strong negotiator can also be a humane mentor. Her work helped prevent a war and a stop a nuclear arms race. As someone who has been privileged to be Wendy's teammate and even more grateful to remain her friend, I know every reader will learn much from her story but even more from her example."
—John Kerry, 68th U.S. Secretary of State and author of Every Day Is Extra

"This is an indispensable insider's account of America's negotiations with Iran and North Korea and a timely reminder of the importance of diplomacy. Sherman and her colleagues' struggles to make peace underscore how recently expertise and careful strategy were tangible realities of foreign policy, rather than lost arts. This book is also the personal saga of a woman navigating a generation of change in American politics. At an inflection point in our national conversations about diplomacy and gender, this book is illuminating on both fronts."
—Ronan Farrow, contributing writer, New Yorker, and author of War on Peace

"Wendy Sherman draws on childhood lessons of equal justice forged during the civil rights era to pioneering experiences navigating a professional world dominated by men to illustrate invaluable negotiating skills for women in all aspects of life. Interwoven with revelations about the historic Iran negotiations, hers is a compelling narrative, never needed more than today."
—Andrea Mitchell, chief foreign affairs correspondent, NBC News anchor, MSNBC

"A riveting read. Sherman's candid stories about the way women relate to success, failure, and persistence is a balm for every reader who has been one of a few, or the only woman at the table. This book is a must for anyone who wants to understand what modern, winning talent looks like, and how it can bring two sides together in a world where that is becoming more and more difficult."
—Claire Shipman, journalist and coauthor of The Confidence Code

Sharp and genuine, the book is as much a testament to [Ambassador
Sherman's] accomplishments as it is a call to 'find common ground...[and] do
good' in an increasingly polarized world. Insightful reading."—Kirkus Reviews

"Sherman shares stories of her time in the State
Department negotiating the most sensitive issues of our time, bringing readers
inside the world of international diplomacy and into the mind of one of our
most effective diplomatic negotiators. Sherman also shares personal stories
that show how our private experiences affect our professional lives, offering
advice for forging common ground, and understanding the nature and use of power
to help us reach our own goals... Very much worth reading."—Bustle