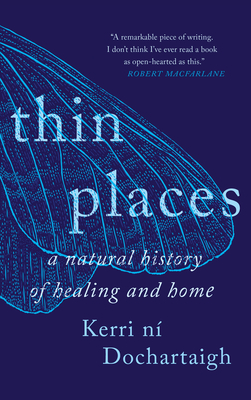 Staff Reviews
---
This book is so incredibly beautiful. Part memoir, part tribute to the natural world, it is a story that will sit with me for a long time. Dochartaigh recounts the horrors of living through the Troubles in Derry, Ireland and the pain of having to grapple with the excruciating memories ever since. It is heavy. But it is also wonderful. Although the echoes of trauma reverberate throughout, she shows how peace and reconciliation can be found in the most unsuspecting of places - in the land that bore the violence and yet is her home; in the rivers, the beaches, every wild patch of nature in which life continues to move along despite the violence of humanity. She bares her soul so completely, and through the exploration of her past, discovers that beauty can be found right alongside horror, as long as you are willing to see it.
— From
Natalie's Picks (picks 2)
Thin Places by Kerri ní Dochartaigh is luminescent. Blending nature writing, memoir and history, Thin Places is a quietly vivid yet disturbing and wondrous book about national, generational and personal trauma. She describes her family's experience during the height of the Troubles in Ireland and the terror inflicted on her family - one parent was Catholic, the other Protestant. But it's also a book about healing and how the natural world helped her process grief and loss and reclaim her identity and sense of home. — From Michelle's Picks (page 1)
April 2022 Indie Next List
---
"Memoir and folklore weave together in this haunting story of a childhood unfolding during the Troubles in Northern Ireland, capturing a burning desire to find balance and peace. Superbly beautiful, raw, and heartbreaking writing."
— BJ Hegedus, Postalworks Silver Lake, Los Angeles, CA
Description
---
An Indie Next Selection for April 2022
An Indies Introduce Selection for Winter/Spring 2022
A Junior Library Guild Selection
Both a celebration of the natural world and a memoir of one family's experience during the Troubles, Thin Places is a gorgeous braid of "two strands, one wondrous and elemental, the other violent and unsettling, sustained by vividly descriptive prose" (The Guardian).
Kerri n Dochartaigh was born in Derry, on the border of the North and South of Ireland, at the very height of the Troubles. She was brought up on a council estate on the wrong side of town--although for her family, and many others, there was no right side. One parent was Catholic, the other was Protestant. In the space of one year, they were forced out of two homes. When she was eleven, a homemade bomb was thrown through her bedroom window. Terror was in the very fabric of the city, and for families like n Dochartaigh's, the ones who fell between the cracks of identity, it seemed there was no escape. In
Thin Places
, a luminous blend of memoir, history, and nature writing, n Dochartaigh explores how nature kept her sane and helped her heal, how violence and poverty are never more than a stone's throw from beauty and hope, and how we are, once again, allowing our borders to become hard and terror to creep back in. N Dochartaigh asks us to reclaim our landscape through language and study, and remember that the land we fight over is much more than lines on a map. It will always be ours, but--at the same time--it never really was.