The Complete Handbook of Quantum Healing: An A-Z Self-Healing Guide for Over 100 Common Ailments (Paperback)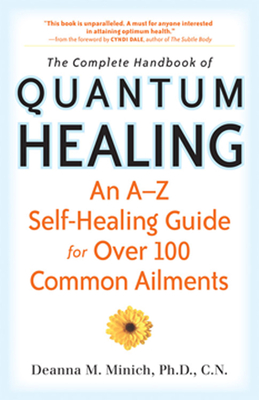 $18.95

Special Order - Subject to Availability
Description
---
This book brings together two seemingly disparate worldsthe world of hard, evidencebased science and the world of experientiallybased healing to provide a multipronged approach to self-healing ailments. The AtoZ format makes reference easy.
For each of over 100 heath issues, you'll find seven healing options that can help readers activate their inner healing resources ranging from food and dietary strategies to powerful meditation techniques and from timetested flower essences to ways of invoking "power animals." For some ailments, readers may need just one option, for others, two or three, and sometimes all seven approaches as they try to deal with difficult problems to achieve longterm relief.
About the Author
---
Deanna Minich, Ph.D., CN, is an internationally known nutritionist, researcher, counselor, and author with more than fifteen years of experience in the nutrition field. Her ability to translate difficult nutrition information into everyday hints and tips allows others to make healthy choices in grocery stores, restaurants, and kitchens.
Praise For…
---
"Deanna Minich has done it again! She has managed to write yet another book that is not only an easy step by step guide to healing, but is spiritually practical. We all have health issues from time to time and her approach is to look more deeply at the issue so that you go to the source, rather than just treat the symptom. I believe that Deanna is a true wealth spring of knowledge on the real live ways of how to incorporate a well rounded mind, body and spirit approach to personal healing and this book is truly a must have. I love that each of her books leaves me feeling like I have gone to a beautiful retreat to refresh my soul." Anni Daulter MSW, author of Organically Raised; Conscious Cooking for Babies & Toddlers
— Reviews

"(You will find) gems of information on every page for understanding our body and how to be an ally to its healing process." Steve Sisgold, author of the bestselling book, What's Your Body Telling You?
— Reviews

"This book is a beautiful integration of Eastern and Western healing disciplines. It is beautifully organized with tables, questionnaires, and diagrams to facilitate use by healers or those who need healing." Scott Rigden, MD, author of The Ultimate Metabolism Diet
— Reviews

"A much needed guide for those wanting to take advantage of the best of what many different healing modalities have to offer. It is divided by ailments, which makes it incredibly practical and easy to use. It will save you time from reading countless books since all the info is distilled and organized for you. But most of all, it will give you sound advice to take responsibility for your own health, and do it successfully. I recommend this book with enthusiasm and without reservation." Alejandro Junger, M.D., author of the bestselling book Clean
— Reviews

"A thoughtful, comprehensive synthesis of a multifaceted approach to healing, incorporating suggestions for nutrition, emotional and attitude adjustment, flower essences, shamanic journeying, affirmations, and imagery. Consider this a practical and necessary extension of the work of Rosalyn Bruyere, Barbara Brennan and Caroline Myss." Belleruth Naparstek, LISW, BCD, Creator of the Health Journeys guided imagery series and author of Invisible Heroes: Survivors of Trauma and How They Heal
— Reviews

"If you want to take back the power to control your own health, then you'll want Quantum Healing on your nightstand. With wisdom and intelligence, Deanna Minich shines the light on how we all have the ability to use our mind and spirit to heal our bodies." -Christine Arylo, co-founder of Inner Mean Girl Reform School
— Reviews

"Dr. Minich's book is one of the most important books you'll ever read. More than just a 'wellness book,' Quantum Healing describes how to apply the ancient wisdom of the energy centers called Chakras to everyday life that can radically improve your health immediately. From the very start, she shows you how to achieve a whole new level of transformation physically, emotionally and spiritually. Through her clear and gentle guidance, you will marvel at the how small shifts and incremental changes she offers produce authentic health and healing. A true expert, Dr. Minich's experience, wisdom and passion for Quantum Healing is simply brilliant." -Dr. Sheila Dean, DSc, RD, LD, CCN, CDE, author of Nutrition & Endurance: Where Do I Begin
— Reviews