Inseparable: Desire Between Women in Literature (Paperback)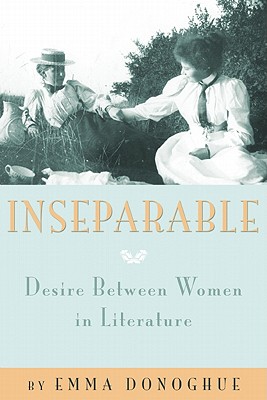 $18.95
Email or call for price.
Description
---
Emma Donoghue examines how desire between women in English literature has been portrayed from schoolgirls and vampires to runaway wives from cross-dressing knights to contemporary murder stories. She looks at the work of those writers who have addressed the "unspeakable subject" examining whether same-sex desire is freakish or omnipresent holy or evil as she excavates a long-obscured tradition of (inseparable) friendship between women one that is surprisingly central to our cultural history. Donoghue explores the writing of Sade Balzac Hardy Wilkie Sayers Highsmith and more to reveal the half-dozen contrasting girl-girl plots that have been told and retold over the centuries; the paranormal identities assigned to women who desire other women; the ubiquity of same-sex attraction in crime fiction; and the contemporary narratives of coming out privately and publicly. Inseparable is a revelation of a centuries-old literary tradition -- brilliant amusing and until now deliberately overlooked.
Praise For…
---
"Happily, Donoghue is a critic who doesn't fear slumming in the land of potboilers... Donoghue's adroit commentary, along with her chronologically organized bibliography, makes Inseparable necessary for scholars and enlightening and often amusing for anyone else." The New York Times Book Review

"A thorough and fascinating piece of criticism, as satisfying as her fiction" Now (Toronto)

"Meticulously, even painstakingly researched... an expert and innovative analysis... chock full of interesting information, a needed footnote to the history of Western literature." Toronto Sun

"A highly enjoyable romp through literary history that reads like good journalism rather than academic textbook... Donoghue's great skill is that she remains totally focused on her six plots through an amazingly broad time period... It has the dizzying effect of bringing something that's always been in our shared peripheral vision hazy and intangible until now sharply into focus." Xtra (Toronto)

"As readable as it is rigorous... What's so refreshing about Inseparable is that, while it's clearly the work of a bona fide scholar... it still manages to be both witty and entertaining. The writer is like that favorite college professor who, in her genial unstuffiness, breathes the kind of life into her subject that keeps students riveted from the first word." Edge

"A thorough, intelligent researcher... a disarming, often funny historian." San Francisco Chronicle

"Emma Donoghue's pedigree as a literary critic, novelist, scholar, and (it should go without saying) passionate reader makes her the perfect tour guide. Equally at home with Ovid and Rita Mae Brown, she is generous with her insights, providing helpful context... Brilliant, insightful, and frequently funny, Inseparable is sure to bring new readers to the world of classic literature." The Gay and Lesbian Book Review

"Thorough, scholarly and consistently entertaining" Booklist

"Indispensable" Library Journal