Becoming Kuan Yin: The Evolution of Compassion (Paperback)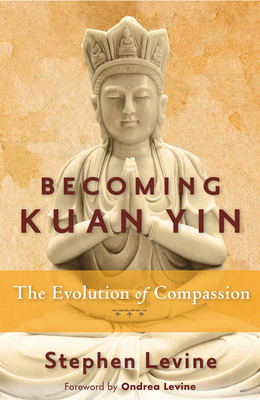 $16.95

Not Available In-Store - Usually Ships from Warehouse in 1-5 Days
Description
---
In his long career as a poet, Buddhist teacher, spiritual advisor, and writer, Stephen Levine has changed our understanding of death and dying. In Becoming Kuan Yin, Levine's first new book in many years, he turns to the legend of Kuan Yin, the Bbodhistitva venerated by East Asian Buddhists for her compassion.

In Becoming Kuan Yin, Levine shares the tale of Miao Shan, born centuries ago to a cruel king who wanted her to marry a wealthy but uncaring man. This is the story of how Miao Shan refused to follow the path her father had in mind and, instead, became Kuan Yin, the first acknowledged female Buddha who watches over the dying and those who work with them.

Levine weaves together story and practice and helps readers discover their own infinite capacity for mercy and compassion under difficult circumstances. This book will have resonance for Kuan Yin's millions of followers.
About the Author
---
Stephen Levine is an American poet, author ,and teacher best known for his work on death and dying. He is one of a generation of pioneering teachers who, along with Jack Kornfield, Joseph Goldstein, Ram Dass, and Sharon Salzberg, who have made the teachings of Theravada Buddhism more widely available to students in the West. He is the author of Who Dies?, Healing into Life and Death, and Turning Toward the Mystery. Visit him at www.levinetalks.com.
Ondrea Levine and Stephen Levine are close collaborators in teaching, in practice, in life. Together they are the authors of more than eight books, some of which bear Stephen's name only as author, but all of which Ondrea had a hand in. Together they are best known for their work on death and dying. They are also the parents of Buddhist teacher and writer Noah Levine. Visit them online at www.levinetalks.com.
Praise For…
---
"After decades of Stephen Levine's devotion to compassionate service, who better to bring us the story of the transformative journey of Miao Shan becoming Kuan Yin, the Bodhisattva of Compassion."--Ram Dass, author of Be Here Now
— Reviews

"Stephen Levine's new book, Becoming Kuan Yin, is a beautifully written masterpiece that embraces the reader in a reverent flow. The tale of awakening, alternating with principles of practice and guided meditations, opens the heart and generates a profound inner stillness. A remarkable and vibrant transmission of love." --Francine Shapiro, PhD, originator of EMDR therapy, author of Getting Past Your Past
— Reviews

"Good news: the cosmos is compassionate, and Stephen Levine is a trustworthy guide to the Universal Portal. Profoundly nourishing. A real treasure. Please discover and enjoy for yourself the pilgrimage of but a foot and a half--from head to heart. Absolutely #1." --Gary Gach, author of The Complete Idiot's Guide to Understanding Buddhism
— Reviews

"Using the myths and image of Kuan Yin and her dragon mount, Stephen Levine has given us gracefilled meditations and reflections on the practice of a fierce compassion that constantly stretches the boundaries and limitations of what we previously thought was possible." --Ralph Metzner, author of The Unfolding Self
— Reviews

"The stories of Kuan Yin here are truly captivating and liberating. Through these stories and his own insights, Stephen Levine encourages us to cultivate our own limitless capacity for love and compassion." --Sharon Salzberg, author of Real Happiness
— Reviews

"This book has a heart of its own. A boundless heart. A clarified heart. A heart that bridges humanity. A poetic reminder that enlightenment is not a head trip--it's a heart trip. I felt my own emotional armor shedding a little more with every page. A beauty-full read!" --Jeff Brown, author of Soulshaping
— Reviews

"Using the myths and image of Kuan Yin and her dragon mount, Stephen Levine has given us grace-filled meditations and reflections on the practice of a fierce compassion that constantly stretches the boundaries and limitations of what we previously thought was possible." --Ralph Metzner, author of The Unfolding Self
— Reviews

"Kuan Yin smiles exquisitely in Stephen's writing. Blessings hide-and-seek between words and lines, eager to find and be found, console, heal, and inspire." --Paul Cash
— Reviews

"The stories of Kuan Yin here are truly captivating and liberating. Through these stories and his own insights, Stephen Levine encourages us to cultivate our own limitless capacity for love and compassion." --Sharon Salzberg, author of Real Happiness
— Reviews

"I don't consider this wise and loving book as so much written by Stephen Levine as I do a clear message from Kuan Yin herself." --John Fox, The Institute for Poetic Medicine and author, Poetic Medicine: The Healing Art of Poem-Making
— Reviews

"A loving poetic fable, filled with the mercy of Kuan Yin and the devotion to love that is Stephen and Ondrea's life work and gift to the world." --Jack Kornfield, author of A Path with Heart
— Reviews

"Becoming Kuan Yin is our true work--mine, yours--and a marvelous path from the head to the heart, right into the splendid universe of her Buddha heartsoul. I bow and reverence the radiant Buddha within our own innate original goodness; don't overlook her! Unconditional Compassion is the way, the truth, and the light, and Stephen's long awaited guide takes us right in. Meet ya there!" --Lama Surya Das, author of Awakening the Buddha Within
— Reviews

"After decades of Stephen Levine's devotion to compassionate service, who better to bring us the story of the transformative journey of Miao Shan becoming Kuan Yin, the Bodhisattva of Compassion." --Ram Dass, author of Be Here Now
— Reviews

"Stephen Levine's new book, Becoming Kuan Yin, is a beautifully written masterpiece that embraces the reader in a reverent flow. The tale of awakening, alternating with principles of practice and guided meditations, opens the heart and generates a profound inner stillness. A remarkable and vibrant transmission of love." --Francine Shapiro, PhD, originator of EMDR therapy, author of Getting Past Your Past
— Reviews