Audubon Songbirds & Other Backyard Birds Calendar 2014 (Calendar)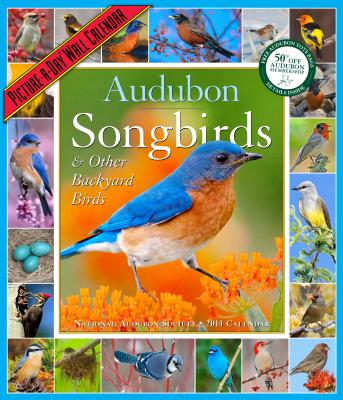 Description
---
Plump jays, cheerful chickadees, resplendent hummingbirds, and robins—charming heralds of spring. Offering a sighting a day for America's 51 million birders, Audubon Songbirds is the beloved and bestselling calendar from the organization that is synonymous with birds. On each month's spread is a large photograph at the top of the page and dozens of smaller ones in the grid below, all in full color. Your favorite backyard friends—up close and personal.
About the Author
---
Audubon's mission is to conserve and restore natural ecosystems, focusing on birds, other wildlife, and their habitats for the benefit of humanity and the earth's biological diversity.

Audubon's network of community-based nature centers and chapters, scientific and educational programs, and advocacy on behalf of areas sustaining important bird populations, engage millions of people of all ages and backgrounds in positive conservation experiences.