1,000 Places to See Before You Die (Deluxe Edition): The World as You've Never Seen It Before (Hardcover)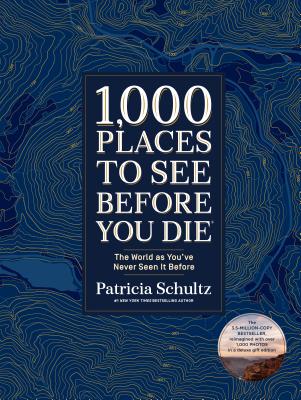 $60.00

Not Available In-Store - Usually Ships from Warehouse in 1-5 Days
Description
---
Named a Best Gift Book/Best Travel Book of the Year by the New York Times, Entertainment Weekly, Associated Press, House Beautiful, Business Insider, The Daily Beast, Forbes, Fodor's, The Points Guy, Seattle Times, and more

"This is the comfort food of travel books. . . . This book will sweep you off your feet."—New York Times Book Review
 
"Gorgeous . . . breathtaking . . . spectacular."—Publishers Weekly

Patricia Schultz curates the world. When she published the original 1,000 Places to See Before You Die, she created not only a new kind of travel book but also a new way of thinking about our experiences and interests.
 
Now Schultz captivates our hearts in the same compelling way her original book spoke to our minds. Moving from eloquent word to breathtaking image, she takes us on a visual journey of the best the world has to offer, and as we turn the pages and pore over these images, we feel it all: joy, curiosity, awe, passion, nostalgia (if we've been there), inspiration (because we want to go), and a profound and transforming sense of how lucky we are to live in a world filled with such beauty and wonder—to see tributaries of mist curling over the Great Wall, elephants grazing on the floor of the Ngorongoro Crater, the sun setting on the wild coast of Donegal, masked whirling dancers at a festival in Bhutan.
 
The book itself is a thing of beauty, an oversize feast of more than 1,000 all-new photographs and 544 pages, every spread and page designed to showcase these mesmerizing photographs and hold just enough of Schultz's lively text that we know why it is we're looking at them. It is a perfect gift for every traveler, every fan of the original, every dreamer whose Instagram feed is filled with pictures of places near and far.
About the Author
---
Patricia Schultz is the author of the #1 New York Times bestsellers 1,000 Places to See Before You Die and 1,000 Places to See in the United States and Canada Before You Die. A veteran travel journalist with over 30 years of experience, she's written for Frommer's, Berlitz, and Access travel guides, as well as the Wall Street Journal, Condé Nast Traveler, and Travel Weekly, where she is a contributing editor. Her home base is in New York City, but good luck finding her there.

 
Praise For…
---
"This is the comfort food of travel books. . . . This book is meant to inspire wanderlust in anybody who needs an actual getaway. If you're living in a bubble, this book will keep you there. If you're not, this book will sweep you off your feet, gently."
—New York Times Book Review

"Ever swoon over a travel book before? Get ready to get giddy. 1,000 Places to See Before You Die—the world's bestselling travel book of all time . . . by globetrotting journalist Patricia Schultz—has now been extravagantly reimagined in a dazzling new deluxe edition. And what a treasure pleasure it is. The hefty, luxuriously oversize, hardcover coffee-table tour de force is visually riveting. More than 1,000 gorgeous color photographs are designed on 544 pages. Schultz's engaging words weave together a tapestry of descriptions. . . . There are surprises galore, fresh finds, plenty of 'aha' discoveries. This book will be a popular holiday gift choice for both intrepid adventurers and armchair travelers—and nearly every vacationer in between."
—Forbes
"The ultimate travel bucket list. . . a must have."
—House Beautiful
 "If you want to elicit oohs and aahs, get someone this book. . . . Stunning."
—The Daily Beast
  "[This new deluxe edition] finally gives every single destination the lavish visual treatment it has always deserved. The oversized 1,000 Places to See Before You Die: The World as You've Never Seen It Before is a feast of fantasy in coffee table proportions. . . . [There are] 1,000 reasons the book's new edition makes for a beautifully inspiring addition to our library."
—Frommers

"Both the information and the presentation — more than 1,000 color photos pack the 532 thick, glossy pages — are a vast departure from the no-nonsense original [edition of 1,000 Places to See Before You Die]. . . . The packaging is undoubtedly prettier, but the DNA of the book remains the same. It's the ultimate travel wish list."
—Chicago Tribune

"This edition by Patricia Schultz adds stunning, full-color photography to every locale, making the book even more inspiring and dazzling." 
—Seattle Times

"One of the most comprehensive world travel guides available today. . . . Cure your vacation planning woes and prepare for the trip of a lifetime as you journey through this 544-page full color travel guide to the world's most desirable destinations."
—Jetset

"Amazing handpicked photos of some of the most beautiful places in world. The book itself . . .  is oversize eye candy—compelling us to pack our bags and head out to explore."
—The Times of Northwest Indiana "Full of breathtaking photographs and must-sees."
—TheLadders.com
 "The gorgeous third edition of veteran travel journalist Schultz's destination compendium takes a much more visual approach than previous renditions. . . . Each of the places is illustrated with a breathtaking photograph. . . . This spectacular coffee-table book will inspire readers to add more destinations to their bucket lists."
—Publishers Weekly

"The original bucket-list travel book gets a fresh new look. Tons more images, new places, and new adventures refresh 1,000 Places to See Before You Die for 2019."
—Gear Junkie

"A visual extravaganza! You can't turn a page without wanting to jump on a plane and go!"
—Dylan Thuras, cofounder of Atlas Obscura

"This photographic version of the all-time classic travel book taps into our need to let go of our over-scheduled lives and serendipitously wander, to open the book and effortlessly travel where the pages want to take us."
—Samantha Brown, host of PBS's Places to Love

"For the past decade and a half, 1,000 Places to See Before You Die has been inspiring travelers across the globe, with dreams of journeys far and near. And thanks to this latest edition, those dreams are going to be in full-color now. Author Patricia Schultz and her team have added stunning photos to the text, for all 1,000 of the places visited (and sometimes multiple photos, in the case of larger destinations such as London). It makes for an even more inspirational jaunt around the planet, one that both avid and armchair travelers will relish. Brava!"
—Pauline Frommer, publisher of Frommer's guidebooks and Frommers.com

"This new photo-driven edition of 1,000 Places to See Before You Die is a beautiful, easily digestible book that's perfect for any person looking for some travel inspiration. As a world traveler myself, I was able to read this book and add quite a few places that I'd never heard of before to my bucket list!" 
—Brian Kelly, founder and CEO of the Points Guy