The Froggies Do NOT Want to Sleep (Hardcover)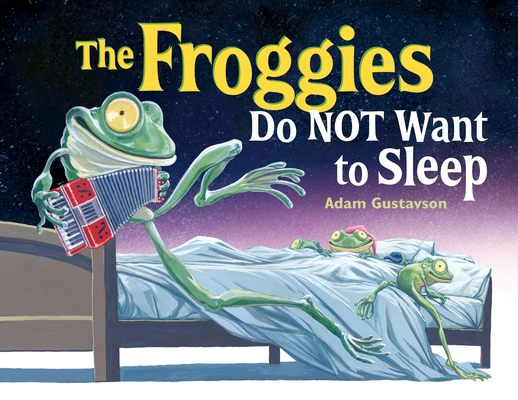 Description
---
Prepare for a different kind of bedtime book--a zany, imaginative adventure to send your little froggies off to dreamland. Not since David Weisner's Tuesday have frogs had so much fun!

Why go to bed when you can play the accordion, dance underwater ballet, and hold burping contests with strange alien lifeforms? For every kid who ever came up with an outlandish excuse for why it can't be bedtime yet, these froggies' antics will delight and entertain. Acclaimed illustrator Adam Gustavson's raucous authorial debut shows parents there's more than one way to do bedtime.
About the Author
---
Adam Gustavson received his Bachelor's degree in illustration from Rowan University and his Master's from the School of Visial Arts in New York. Adam has illustrated several picture books, including the award-winning Good Luck, Mrs. K! (Margaret K. McElderry). He also teaches at Passaic County Community College in Paterson, New Jersey, and Seton Hall University in South Orange, New Jersey.

Adam and his family live in West Orange, New Jersey.
Praise For…
---
♦ Eschewing sleep, the froggies engage in bizarre nighttime capers.
This unusual bedtime book alerts readers with the bold opening message that "the froggies do NOT want to sleep." Indeed! Instead, the froggies want to hop. Reasonable. They also want to practice the accordion, ride unicycles, and play dress up! Hmmm? They want to go on long country drives and "joust like knights." OK. And they want to perform underwater ballet and "tame ferocious beasties"! Really? Pushing the envelope totally, the froggies want to sing opera while being shot from a cannon, fly spaceships, and engage in burping contests with ET's. But they absolutely do not want to sleep…maybe. Beginning with the froggies' surreptitious exit from bed on the front endpapers, the realistically executed, fantastically conceived illustrations track the froggies' nocturnal activities from the sublime to the ridiculous in a series of increasingly dramatic double-page spreads. Early images show leggy amphibians tiptoeing across the page before exuberantly hopping frogs jam-pack the spread. Hilarious scenes of frogs playing accordions, spinning on unicycles, dressing up in period costumes, speeding like Mr. Toad in a flashy red roadster, aerially jousting with toilet plungers, performing ballet lifts underwater, riding a submerged alligator (backward), operatically exploding from a cannon, and zipping through galaxies in a spaceship appropriately culminate on the rear endpapers with the exhausted froggies finally crashing into bed.

A zany, rib-tickling bedtime tour de force.
—Kirkus Reviews, starred review