The High-Protein Vegetarian Cookbook: Hearty Dishes that Even Carnivores Will Love (Hardcover)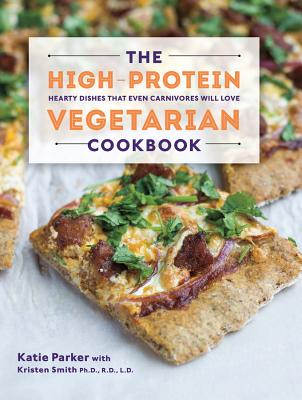 Description
---
Satisfying vegetarian recipes from Veggie and the Beast
Where do vegetarians get their protein? From delicious plant-based foods, including beans, nuts, quinoa, raw cocoa, and even dairy. These ingredients are used to their best advantage in this new cookbook. As a vegetarian living with a meat-eating guy, the author has developed recipes for every time of day (or night) that are deliciously satisfying and high in protein. With recipes like Fresh Veggie Quinoa Salad with Lemon Tahini Dressing, Mushroom and Wild Rice Burgers, Quick and Hearty Vegetarian Chili, and Dark Chocolate Black Bean Brownies, the results are outrageously tasty—and completely vegetarian!
About the Author
---
Katie Parker is the founder, recipe developer, writer, and photographer for the food blog Veggie and the Beast. She's been a vegetarian for twenty-five of her twenty-eight years, and her boyfriend, Ryan—an avowed carnivore, outdoorsman, and bowhunter—came up with the name. With Ryan at the table, Parker has upped her game to serve high-protein, hearty, vegetarian fare that satisfies both of them. They live together in Edina, Minnesota.

Kristen Smith earned a BS in Dietetics from the University of Kentucky and a PhD in Nutrition Science from the University of Minnesota. While pursuing her doctoral degree and studying the effects of an isolated component of barley fiber on human health and cardiovascular disease risk, she also completed a specialized dietetics internship through the University of Minnesota and became a Registered and Licensed Dietitian. Smith lives in Richfield, Minnesota.