Unsuspecting Souls: The Disappearance of the Human Being (Hardcover)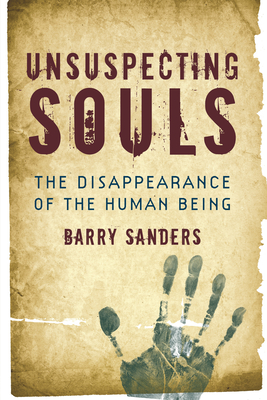 $26.00

Special Order - Subject to Availability
Description
---
During the nineteeth century, something vital went missing: the human being. In Unsuspecting Souls, Barry Sanders examines modern society's indifference to the individual. From the Industrial Revolution, where the disappearance of care for human beings begins slowly, to our own age, where societal events require less person–to–person interaction, Sanders laments that what makes us most human is slowly dying. Our days are filled with little but a continuous bombardment of "information," demands on our attention, that brings us out of our world and into one of inhumanity and abstraction. We are losing entirely any palpable attachment to our physical reality.

And we've also lost the original sense of a collective consciousness. This loss has been fomenting for two centuries now, dating back to the rise of European powers and worldwide colonization. This has led to the notion that we need to define what is torture, an idea that not long ago would have seemed absurd, and need to pick our poisons among several forms of radical fundamentalisms, each one not only a threat to the other but a threat to humanity itself. From Edgar Allen Poe to Abu Ghraib, this is a fascinating and worrisome story, impeccably researched and compellingly written.
About the Author
---
Barry Sanders has received two Pulitzer Prize nominations for his works A Is for Ox and Alienable Rights, which he co–authored with Francis Adams. Recipient of a Fulbright Senior Scholar Grant, Sanders retired in 2005 from his post as professor of History of Ideas and English at Pitzer College in Claremont, California.
Praise For…
---
Praise for A Is for Ox

"A brilliant, disturbing reflection on the collapsing moral order of post–modern America. If literacy is the wellspring of selfhood, as Sanders makes clear, our aggressive, image–addicted society is unwittingly committing cultural suicide."
—Mike Davis, author of Planet of Slums