Our Media, Not Theirs: The Democratic Struggle against Corporate Media (Open Media Series) (Paperback)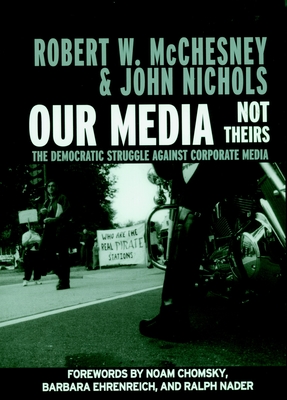 $9.95

Special Order - Subject to Availability
Description
---
Our Media, Not Theirs! The Democratic Struggle Against Corporate Media examines how the current media system in the United States undermines democracy, and what we can do to change it. McChesney and Nichols begin by detailing how the media system has come to be dominated by a handful of transnational conglomerates that use their immense political and economic power to saturate the population with commercial messages. Further, the authors provide an analysis of the burgeoning media reform activities in the United States, and outline ways we can structurally change the media system through coalition work and movement-building: the tools we need in order to battle for a better media.
About the Author
---
ROBERT W. MCCHESNEY is a research professor in the Institute of Communications Research and the Graduate School of Library and Information Science at the University of Illinois at Urbana-Champaign. His work concentrates on the history and political economy of communication, emphasizing the role media play in democratic and capitalist societies.
JOHN NICHOLS is the Washington correspondent for the Nation and associate editor of The Capital Times in Madison, WI. He is the author of Jews for Buchanan: Did You Hear the One About the Theft of the American Presidency (The New Press), and is a recipient of the Clarion Award for newspaper column writing and Inland Press Association honors for best editorial writing on an American newspaper.
Praise For…
---
"An astute analysis offering compassionate solutions. I loved the book. It speaks for me." –Patti Smith


"McChesney and Nichols both critically assess our current media system and, even better, help us to imagine something different, mapping the transition from a period of individual frustration with corporate media toward one of collective action for their reform." –Janine Jackson