Anne Braden Speaks: Selected Writings and Speeches, 1947-1999 (Paperback)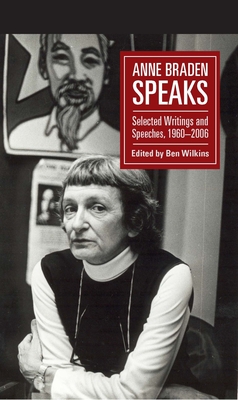 $19.00

Not Available In-Store - Usually Ships from Warehouse in 1-5 Days
Description
---
Anne Braden was raised to be a southern belle. Instead she became a revolutionary who helped to shape the self-understanding of the entire civil rights movement. From her earliest days as a trade unionist in the radical wing of the Congress of Industrial Organizations, she had been one of a small handful of white Southerners willing to take a stand against Jim Crow in the 1950s. As a journalist throughout the 1960s, she offered a penetrating, historically-grounded analysis of events which was widely read by civil rights activists. She was an informal advisor to Rev. Dr. Martin Luther King, Jr.; a close associate of key leaders such as Ella Baker, Rev. Fred Shuttlesworth, and Myles Horton; and a mentor to countless young revolutionaries until her death in 2006.
At a time when the North American ruling class went to great lengths to prevent any semblance of continuity between movements, Braden forged direct links between the radical left of the 1930s and 40s, and that of the 1960s. Beginning with her trial for sedition in 1954, she endured constant attacks at the hands of the U.S. government, largely due to her association with Communism. And yet, as deeply as she influenced the development of the early civil rights movement, the scale of Braden's contributions and insights have either been redacted to meet the needs of the official version of civil rights movement history, or been made palatable to the very same power structure she spent her entire life working to overturn.
Anne Braden Speaks
corrects this distorted narrative. Finally, and for the first time, we have full access to a representative collection of Braden's writings, speeches, and letters, and the full spectrum of their subject matter: from the relationship between race and capitalism, to the role of the South in American society, to the function of anti-communism.
About the Author
---
Anne Braden (Author) Anne Braden (1924-2006) was a critically acclaimed author and renowned freedom fighter who had a hand in the formation of Student Nonviolent Coordinating Committee (SNCC), Martin Luther King's Poor People's Campaign, and the Rainbow Coalition. Fundamental to Southern Conference Education Fund (SCEF), she also co-founded the National Alliance Against Racist and Political Repression (NAARPR), the Southern Organizing Committee for Economic and Social Justice (SOC), and the National Anti-Klan Network (NAKN). Ben Wilkins (Editor) Ben Wilkins has been an activist in labor and civil rights struggles from the start. As an organizer with a healthcare workers union local in Michigan, he led campaigns among hospital and nursing home workers. Currently, as part of the Fight for $15 movement, he organizes low wage workers across the U.S. South from his home base in North Carolina.