Hard-Rock Miners: The InterMountain West, 1860-1920 (Paperback)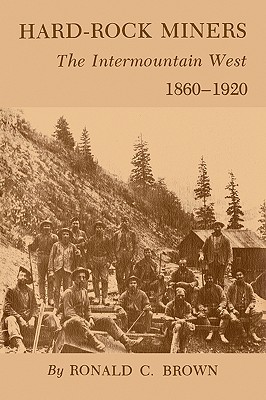 $20.95

Not Available In-Store - Usually Ships from Warehouse in 1-5 Days
Description
---
When the colorful western prospectors had made their strikes and moved on, they left behind them another, lesser known breed of men, the hard-rock miners. For six decades these working stiffs followed mining opportunities into the boom towns of the intermountain West and gouged from the depths other men's wealth. In mines ranging from glorified prospect holes to underground extractories, they picked and blasted, sometimes in shifts of twelve hours, not only ore and minerals but also lung-destroying dust. Working by candle light in the ill-ventilated, narrow, and often sweltering depths, they courted dangers from fire, gas, subterranean water, and cave-ins. Management's interest in high productivity and profits often jeopardized miners' needs for a living wage and job security. Some miners retaliated by high-grading, or stealing their bosses' ore, for the old miners' maxim told them "gold belongs to him wot finds it."

Above ground they lived in communities like Cripple Creek, Goldfield, Bisbee, and Leadville, communities that were western and yet urban. There they faced the rigors of a rugged climate, frontier scarcities, and ramshackle housing. But they relieved their hardships with their own brands of entertainment: rock-drilling contests that were to the miner what rodeos were to the cowboy; practical jokes like shivarees, snipe hunts, and social gatherings, picnics, and special celebrations.

Drawing extensively on contemporary sources, Ronald C. Brown provides the first thorough study of the daily lives and work of hard-rock miners of Wyoming, New Mexico, Arizona, Utah, Colorado, and Nevada in the period 1860 to 1920. He carefully documents his argument that, though it initially made mining more dangerous, ongoing industrialization benefited miners by opening more jobs and, in the long run, by eliminating preindustrial dangers.


About the Author
---
RONALD C. BROWN received his A.B. degree from Wabash College. He earned his A.M. and Ph. D. from the University of Illinois at Urbana-Champaign. At present, he is assistant professor of history at Southwest Texas State University in San Marcos.