The Child Catchers: Rescue, Trafficking, and the New Gospel of Adoption (Hardcover)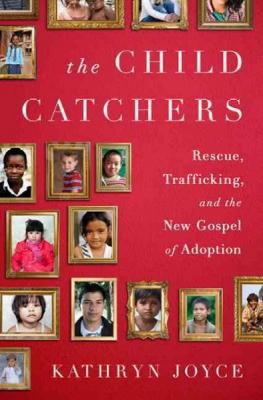 $39.00

Not Available In-Store - Usually Ships from Warehouse in 1-5 Days
Description
---
When Jessie Hawkins' adopted daughter told her she had another mom back in Ethiopia, Jessie didn't, at first, know what to think. She'd wanted her adoption to be great story about a child who needed a home and got one, and a family led by God to adopt. Instead, she felt like she'd done something wrong.

Adoption has long been enmeshed in the politics of reproductive rights, pitched as a "win-win" compromise in the never-ending abortion debate. But as Kathryn Joyce makes clear in The Child Catchers, adoption has lately become even more entangled in the conservative Christian agenda.

To tens of millions of evangelicals, adoption is a new front in the culture wars: a test of "pro-life" bona fides, a way for born again Christians to reinvent compassionate conservatism on the global stage, and a means to fulfill the "Great Commission" mandate to evangelize the nations. Influential leaders fervently promote a new "orphan theology," urging followers to adopt en masse, with little thought for the families these "orphans" may already have.

Conservative evangelicals control much of that industry through an infrastructure of adoption agencies, ministries, political lobbying groups, and publicly-supported "crisis pregnancy centers," which convince women not just to "choose life," but to choose adoption. Overseas, conservative Christians preside over a spiraling boom-bust adoption market in countries where people are poor and regulations weak, and where hefty adoption fees provide lots of incentive to increase the "supply" of adoptable children, recruiting "orphans" from intact but vulnerable families.

The Child Catchers is a shocking exposéf what the adoption industry has become and how it got there, told through deep investigative reporting and the heartbreaking stories of individuals who became collateral damage in a market driven by profit and, now, pulpit command.

Anyone who seeks to adopt -- of whatever faith or no faith, and however well-meaning -- is affected by the evangelical adoption movement, whether they know it or not. The movement has shaped the way we think about adoption, the language we use to discuss it, the places we seek to adopt from, and the policies and laws that govern the process. In The Child Catchers, Kathryn Joyce reveals with great sensitivity and empathy why, if we truly care for children, we need to see more clearly.
About the Author
---
Kathryn Joyce is a journalist based in New York City whose work has appeared in the Nation, Mother Jones, Slate, the Atlantic, and other publications. A 2011 recipient of the Knight Luce Fellowship for Reporting on Global Religion, she has also been awarded residencies and fellowship support by the Nation Institute Investigative Fund, the MacDowell Colony, the Bellagio Center, and the Pulitzer Center for Crisis Reporting. She is the author of Quiverfull: Inside the Christian Patriarchy Movement and as associate editor at Religion Dispatches.
Praise For…
---
"The Child Catchers takes us for a fast and frightening ride down a road to hell that's paved with 'good intentions,' yes, but also with willful ignorance and worse, outright deception. Joyce's story—that of a new, religiously driven 'baby scoop' that amounts to a massive redistribution of children from the poor to the affluent—requires no sensationalism. The facts, presented here with care and fair-mindedness, are terrifying enough. And Joyce's analysis, calm and powerfully perceptive, is devastating. May this book stand as a landmark work of investigative journalism."
Jessica Valenti, founder of Feministing.com and author of Purity Myth and Why Have Kids"Kathryn Joyce's investigation into the rise of the Christian adoption movement is both fascinating and disturbing. In chronicling this mission to 'save' children from their home countries and perceived hardships, Joyce moves beyond the feel-good headlines to reveal a truth that most American media seems to have missed. The Child Catchers fills an important gap in the national conversation not just about adoption—but about imperialism and feminism as well."

Kirkus, STARRED"Groundbreaking investigative and explanatory reporting"

Boston Globe

Erin Siegal, author of Finding Fernanda"The Child Catchers shatters conceptions about how and why Americans adopt, bringing us inside the often-misunderstood Christian adoption movement. Joyce's graceful prose deftly exposes the connections between adoption trade groups, the religious right, and U.S. policy makers, while delicately revealing a horrific series of ongoing crimes and misdeeds perpetrated against children. A timely, important book."
Debbie Nathan, journalist,  co-author of Satan's Silence; author of Women and Other Aliens, Pornography, and Sybil Exposed"In this chilling expose that promises to become a muckraker classic, Kathryn Joyce rips the veil off a sacrosanct institution in America and other rich nations: international adoption.  She exposes not just black- and grey-market practices—though she finds plenty of both in evangelical-Christian institutions piously claiming to rescue orphans from poor countries.  More profoundly, though, Joyce reveals how secular, squeaky-clean adoption can also do harm, not just to individual birth mothers and adoptees, but to the progress of children's and women's rights globally. The Child Catchers is essential reading for adoptive parents, those thinking about adopting, and anyone concerned with democracy—nationally and throughout the world."

Kirkus Reviews"Joyce broadens the understanding of adoption's conundrums, not only within the United States, but also internationally, with deep investigations of children from Liberia, Ethiopia, Korea, Rwanda, Haiti and China…Groundbreaking investigative and explanatory reporting."
Anthea Butler, University of Pennsylvania"Kathryn Joyce's book The Child Catchers is a compelling, meticulously researched, and insightful dissection of Conservative Christians and their participation in the international adoption complex. Joyce unmasks this new fertile 'mission field' of children, defined by a labyrinth of adoption agencies, organizations, and activists. By unmasking the truth behind many of these 'adoptions' of children with loving but impoverished families, Joyce gives voice to the children hurt by this neo-colonial Christian mission. The Child Catchers is an important must-read in order to understand the business of adoption, and the pain that can befall the child's biological family, the child and, at times, the adoptive family."
Jeff Sharlet, bestselling author of The Family and C Street