The End of Liberalism (Dissident American Thought Today Series) (Paperback)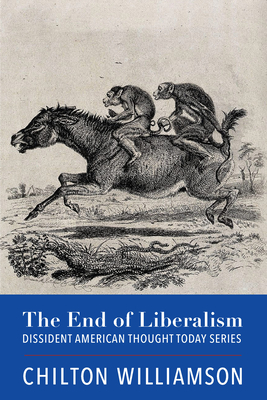 $18.00

Coming Soon - Available for Pre-Order Now
Description
---
In the fourth title in the Dissident American Thought Today Series, Chilton Williamson takes on liberalism and reveals the 'faith' of the present Democratic Party as its own cultivated version of absurdity. This 'advanced liberalism' is not the liberalism of Mill, and it certainly no longer is the thinking man's party. If it were once true that conservatism is unimaginative and reactionary, the contrary is the picture of our times. Liberalism now asserts that human nature can and must be perfected, but without reference to nature. The age of the expert has been thrust upon the United States with the urgency of technique to be applied to coerce the vision of a perfect society and perfect human beings. 

Williamson observes that this liberalism to nevertheless be collapsing, given the obvious opposition to the idea that it is essential to modernity. Liberalism is ironically a kind of unyielding control, "a relativist persuasion that discourages and resists fixed beliefs and certainties and the idea of truth itself." Williamson offers commentary on the present state of liberal ideas and their crimes against better judgment, and vindicates conservatism from being labeled reactionary. Liberalism is exposed as a faith we cannot accept, for it contains nothing to be believed and what it says about the order of things is pure fiction. 
About the Author
---
Chilton Williamson, Jr. is author of After Tocqueville: The Promise and Failure of Democracy, and former literary editor for The National Review and editor for Chronicles. Williamson is also author of several acclaimed Western novels, including Mexico Way (2008). He is currently the president of The Rockford Institute.