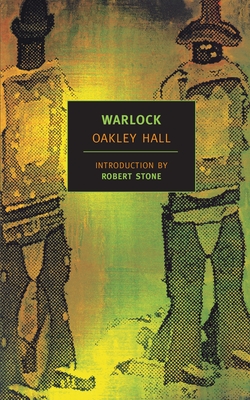 $18.95
Not Available In-Store - Usually Ships from Warehouse in 1-5 Days
Staff Reviews
---
Recently discussed as a candidate for Great Arizona Novel, it has my vote as a Great (and sadly neglected) American Novel. With Warlock standing in as his fictional Tombstone, Hall's masterpiece is a beautifully rendered depiction of western expansion, corporate greed, flawed characters, and gunslinger violence. But don't listen to me. Pick up the book and check out the blurbs by Thomas Pynchon and Robert Stone. And once you've read it, you won't believe how little Arizona has changed.
—
Stephen
Description
---
Oakley Hall's legendary Warlock revisits and reworks the traditional conventions of the Western to present a raw, funny, hypnotic, ultimately devastating picture of American unreality. First published in the 1950s, at the height of the McCarthy era, Warlock is not only one of the most original and entertaining of modern American novels but a lasting contribution to American fiction.

"Tombstone, Arizona, during the 1880's is, in ways, our national Camelot: a never-never land where American virtues are embodied in the Earps, and the opposite evils in the Clanton gang; where the confrontation at the OK Corral takes on some of the dry purity of the Arthurian joust. Oakley Hall, in his very fine novel Warlock has restored to the myth of Tombstone its full, mortal, blooded humanity. Wyatt Earp is transmogrified into a gunfighter named Blaisdell who . . . is summoned to the embattled town of Warlock by a committee of nervous citizens expressly to be a hero, but finds that he cannot, at last, live up to his image; that there is a flaw not only in him, but also, we feel, in the entire set of assumptions that have allowed the image to exist. . . . Before the agonized epic of Warlock is over with—the rebellion of the proto-Wobblies working in the mines, the struggling for political control of the area, the gunfighting, mob violence, the personal crises of those in power—the collective awareness that is Warlock must face its own inescapable Horror: that what is called society, with its law and order, is as frail, as precarious, as flesh and can be snuffed out and assimilated back into the desert as easily as a corpse can. It is the deep sensitivity to abysses that makes Warlock one of our best American novels. For we are a nation that can, many of us, toss with all aplomb our candy wrapper into the Grand Canyon itself, snap a color shot and drive away; and we need voices like Oakley Hall's to remind us how far that piece of paper, still fluttering brightly behind us, has to fall." —Thomas Pynchon
About the Author
---
Oakley Hall was born in 1920 in San Diego and grew up there and in Honolulu, where his mother moved after his parents' divorce. After graduating from the University of California, Berkeley, Hall joined the Marine Corps and was stationed in the Pacific during the Second World War. Following the war, and with the aid of the GI Bill, he continued his studies in France, Switzerland, and England, returning to the US to receive an MFAin creative writing from the Iowa Writers' Workshop. Hall published his first book, Murder City, in 1949 and his most recent, Ambrose Bierce and the Ace of Shoots, in 2005. In between he wrote more than twenty works of fiction and nonfiction, including the novels The Downhill Racers, Separations, and Warlock, which was a finalist for the Pulitzer Prize in 1958; a libretto for the opera based on Wallace Stegner'sAngle of Repose; and two guides to writing fiction. Hall was director of the writing program at the University of California, Irvine for twenty years and, in 1969, co-founded the Community of Writers at Squaw Valley, an annual writers' conference. Among his many honors are lifetime achievment awards from thePEN Center USA and the Cowboy Hall of Fame. Oakley Hall lives in San Francisco.

Robert Stone was born in Brooklyn in 1937. He is the author of seven novels: A Hall of Mirrors, the National Book Award–winning Dog Soldiers, A Flag for Sunrise, Children of Light, Outerbridge Reach, Damascus Gate, and Bay of Souls. He has also written short stories, essays, and screenplays, and published a short story collection, Bear and His Daughter, which was nominated for the Pulitzer Prize. He lives in New York City and in Key West, Florida.
Praise For…
---
"[A] brilliant novel of the violent West." --San Francisco Chronicle

"San Francisco Chronicle Book Editor Critic Oscar Villalon's Picks Oakley Hall's novel Warlock, reissued by the New York Review of Books. 'Excellent genre stuff. A riveting Western that's also a work of literature' " --NPR, Talk of the Nation

"Also in '59 we simultaneously picked up on what I still think is among the finest of American novels, Warlock, by Oakley Hall. We set about getting others to read it too, and for a while had a micro-cult going. Soon a number of us were talking in Warlock dialogue, a kind of thoughtful, stylized, Victorian Wild West diction."–Thomas Pynchon

"Not since Walter Van Tilburg Clark's The Oxbow Incident has there been a novel of the West of as high a dramatic and literary quality as this one."–Library Journal

"Warlock is a big novel in every sense of the word . . . Hall has earned his place above the literary salt with such as Van Tilburg Clark and Conrad Richter and A.B. Guthrie." –San Francisco Chronicle

"Compelling . . . A powerful narrative that throbs unmistakably with the hum of a really big talent." –Chicago Sunday Tribune

"Oakley Hall has a gift for making the historical moment immediate and concrete, pulsing and white-hot." –MacDonald Harris

"Oakley Hall is among our most absorbing novelists." –Los Angeles Times

"Oakley Hall is one of the country's finest writers." –Robert Stone

"Like Henry James and Mark Twain, Oakley Hall is a master craftsman of the story. [His] dialogue is perfectly pitched, and intrigue will keep you turning the pages." –Amy Tan

"Oakley Hall is a novelist who never seems to make a wrong move. His impulses for what's dramatic, for what will touch and move us, for how to engage the issues of the heart with those of the mind, all are uncommonly acute. He is a writer to read and read again." –Richard Ford

"The mastery shines forth undimmed." –San Fransisco Chronicle

"A vast mural of a novel, the best of the year . . ." –Los Angeles Times

"Warlock is a story of the birth pangs of law and order, and the final arbitration of the six-shooter . . . filled with richness of background and foreground . . . hard to give a higher tribute to a book on the early West." –Paul Wellman, New York Herald Tribune

"Monumental!" –Springfield Daily News

"Oakley Hall's Warlock is a super-Western about a frontier marshal, a tremendous piece of writing, with with subtle characterizations of a giant cast, and dialogue that rings as true as a silver dollar tossed on the bar." –Milwaukee Journal

"A 'Western' which is literature!" –Hartford Courant

"As good or better than the all-time greats, Warlock whips and lashes with shootings, lynch mobs, men incredibly swift on the draw, and men who weren't swift on the draw, and men who weren't swift enough, with a drunken judge who is the town's conscience, and a prostitute who is probably its finest woman, with all the violence and blood-letting that were the fearful growing pains of the settlement of the West." –Omaha World-Herald

"[An] intelligent, richly detailed mystery." –Booklist


Hall's brilliant, complex take on the American western, first published in 1958, more than stands the test of time. A newly hired gun-slinging lawman, Clay Blaisedell, tries to restore order to the mythical silver mining town of Warlock, Calif. His reputation for violence serves him well during the first robbery on his watch, but his quick trigger finger, and that of deputy John Gannon, also get him in trouble. A bizarre killing spree (covertly perpetrated by Blaisedell's best friend, a murky political figure named Tom Morgan) and an impending miners' strike (one that allows gang leader Abe McQuown to mount a charge against Blaisedell and Gannon) set up the inevitable final, blazing set of confrontations. Hall, who has written more than 20 novels, taps into the mythic essence of the Wild West with a potent combination of dense but fast-moving prose; a colorful cast of violent, corrupt characters; and a diabolical, ethically neutral worldview. His prosaic tracking of the town's violently shifting nodes of power is prescient and brings Cormac McCarthy to mind as the story unfolds. No account of the fictions of the American West can be complete without reconsidering this revelatory novel." --Publishers Weekly