The Terrible Troll-Bird (Hardcover)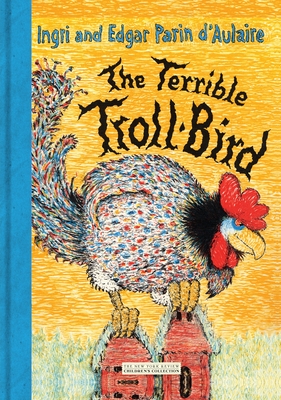 $15.95

Special Order - Subject to Availability
Description
---
One summer's eve Ola, Lina, Sina, and Trina leave their village to gather firewood in the forest, when they're surprised by the hideous call of the terrible troll-bird, a giant rooster who pops up out of the treetops and swoops down to devour their beloved horse Blakken. Little does the terrible troll-bird know that in Ola, Lina, Sina, and Trina he has finally met his match: his terrible days of terrorizing are over. Before long the whole village is celebrating the monster's demise, and even the gnomes and hulder-maidens are coming out of their hiding places in the woods to participate in a great feast. All celebration is cut short, though, with the startling appearance of two monstrous moss-grown trolls even more terrible than the terrible troll-bird himself. Luckily, the children rise to the occasion once more, saving the day before they set out on a splendid new adventure.

Filled with vibrant illustrations and telling a story of childhood ingenuity and bravery, The Terrible Troll-Bird is a delightful companion to Ingri and Edgar Parin d'Aulaire's more comprehensive books of Norwegian folklore, D'Aulaires' Book of Norse Myths and D'Aulaires' Book of Trolls.
About the Author
---
Edgar Parin d'Aulaire (1898—1986) studied art in Germany and France, and worked with Henri Matisse. In Munich, he met Ingri Mortenson (1904—1980), a Norwegian-born art student. They married, emigrated to the US, and began a long career together, during which they published over twenty picture books for children. The Magic Rug was followed by Ola and East of the Sun and West of the Moon, both of which describe Norwegian folklore. Their work shifted to American history with Abraham Lincoln, a biography which won the 1940 Caldecott Medal. The d'Aulaires were awarded the Regina Medal from the Catholic Library Association in 1970.
Praise For…
---
"The d'Aulaires have…created magical, luminous illustrations that capture the humor of this Norwegian folk tale." –School Library Journal

"Another standard from the Caldecott Award–winning d'Aulaires, The Terrible Troll-Bird (also first published in 1955), tells how a group of Norwegian villagers defeated the titular avian (effectively a huge rooster intent on stealing livestock) and its owners, a pair of nasty trolls." --Publishers Weekly

"The d'Aulaires were, of course, the singularly gifted author-illustrators, creators, by the score, of timeless children's books…a number of their books…are still in print, classics that make for perfect gifts each and every year." –Smithsonian Magazine