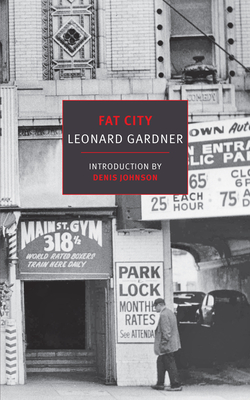 $15.95

Not Available In-Store - Usually Ships from Warehouse in 1-5 Days
Staff Reviews
---
Leonard Gardner's Fat City is Rocky, stripped of all its romance and inspiration. Boxers in depression era Northern California, Ernie Munger, at the beginning of his career, and Billy Tully, at the end of his struggle with booze, women, money, and the misguided belief that if they keep fighting things just might change. There is no big fight, though, no moral victory and life-changing payday waiting around the corner. Their common thread is mutual trainer Ruben, who tries to hold together their lives and psyches but fails at every step in the face of their self-destructive natures and resentment of authority. An old-fashioned hardboiled novel full of desperation and pain, and teeming with life, this forgotten American masterpiece feels just as fresh and important as it did when originally published in the 60's.
—
Danny
Description
---
Fat City is a vivid novel of allegiance and defeat, of the potent promise of the good life and the desperation and drink that waylay those whom it eludes. Stockton, California, is the setting: the Lido Gym, the Hotel Coma, Main Street lunchrooms and dingy bars, days like long twilights in houses obscured by untrimmed shrubs and black walnut trees. When two men meet in the ring—the retired boxer Billy Tully and the newcomer Ernie Munger—their brief bout sets into motion their hidden fates, initiating young Munger into the company of men and luring Tully back into training. In a dispassionate and composed voice, Leonard Gardner narrates their swings of fortune, and the stubborn optimism of their manager, Ruben Luna, as he watches the most promising boys one by one succumb to some undefined weakness; still, "There was always someone who wanted to fight."
About the Author
---
Leonard Gardner was born in Stockton, California. His writing has appeared in The Paris Review, Esquire, Southwest Review, and other magazines. His screen adaptation of Fat City was made into a film by John Huston. A Guggenheim Fellow, he lives in northern California.

Denis Johnson is the author of eight novels, one novella, one book of short stories, three collections of poetry, two collections of plays, and one book of reportage. His novel Tree of Smoke won the 2007 National Book Award.
Praise For…
---
"Sometimes, somehow, someone gets it right. The reissue of Fat City, Leonard Gardner's pitch-perfect account of boxing, blue-collar bewilderment and the battle of the sexes, is cause for celebration, and reflection." —Paul Wilner, San Francisco Chronicle

"A slim, taut book that has earned its status as a classic by dint of its immaculate, evocative prose, a compassionate but dour view of the human condition, and the absolute credibility of its depiction of the sport of the busted beaks. . . . Though Fat City was written long before cellphones or the Internet, its human apparatus is state of the art. With this new edition, new generations of readers and writers will discover it, learn from it, and find both wincing pain and deep pleasure. Gardner's achievement lives on precisely because Fat City is not depressing. The tale is dark, but it is charged with energy. It is seductive, engaging, and lit, despite the odds, by a vitality that is in itself a form of hope. We come away from it burnt clean." —Katherine Dunn, Slate

"A meditation on rugged beauty and abject degradation." —Sam McManis, The Sacramento Bee

"Really a superior performance . . . Gardner takes us into the bitter fancies of two professional prizefighters. . . the first is a has-been, the second is learning to lose. A third character, their manager, links the pair in defeat and frustration...Gardner strips them of everything except the most important thing: their singularity . . . of such a seemingly small gift is dignity born and success measured." —Newsweek

"Gardner . . . writes like a sad poet . . . free of clichés and sentimentality . . . a beautifully written book." —Brian Greene, The Life Sentence

"Fat City affected me more than any new fiction I have read in a long while, and I do not think it affected me only because I come from Fat City, or somewhere near it. . . . He has got it exactly right . . . but he has done more than just get it down, he has made it a metaphor for the joyless in heart." —Joan Didion

"Gardner has laid claim to a locale that others have explored, but seldom with such accuracy and control . . . in a tone that is both detached and lyrical. The triumph of the book is its action. Running, fighting, loving, weeding, harvesting, these men stay in motion in order not to be doomed. So powerfully does Gardner record their actions that we recall their lives, not their defeats." —The New York Times Book Review

"Gardner's book should be taken slowly. The chapters are constructed with great care, worked, polished and fitted like a precision parts in a beautiful engine. There is a comic chapter on the physical attributes of boxers which could easily be overlooked, three pages as delicate and funny as the calmer Twain. Chapter Four, a short section ending a magnificent description of a boxer doing roadwork, withstands the closest scrutiny." —Frank Conroy, Life

"The stories of Ernie Munger, a young fighter with frail but nevertheless burning hopes, and Billy Tully, an older pug with bad luck in and out of the ring, parallel one another through the book. Though the two men hardly meet, the tale blends the perspective on them until they seem to chart a single life of missteps and baffled love, Ernie its youth and Tully its future. I wanted to write a book like that." —Denis Johnson, Salon

"By almost any criterion imaginable, Leonard Gardner's Fat City is one of the two or three very best boxing novels ever written. That it rates among the Top Ten is pretty much beyond dispute." —George Kimball, The Sweet Science

"Leonard Gardner wrote Fat City as a moody elegy to the wayward dreamers who fight in tank-town arenas, then retreat to flophouses and shotgun weddings, day labor and rotgut drinking binges." —John Schulian, Los Angeles Times

"In his pity and art Gardner moves beyond race, beyond guilt and punishment, as Twain and Melville did, into a tragic forgiveness. I have seldom read a novel as beautiful and individual as this one." —Ross Macdonald

"Set in the bars, buses, gyms, and transit hotels of gritty, fifties' era Stockton, California, Fat City is a perfect document, mapped and studied, the dialogue memorized, by generations of writers. The well-known film (written by Gardner for John Huston), only approaches the spare timelessness of Gardner's prose." —Jayne Anne Phillips

"[Fat City is] about everything that goes into why you would get into a ring and box." —Backlisted Podcast