Who You Think I Am: A Novel (Paperback)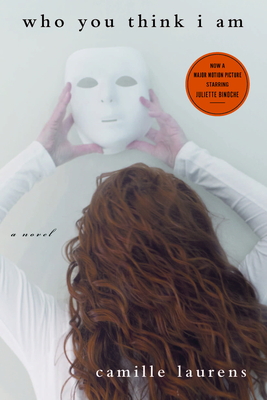 $14.95

Special Order - Subject to Availability
Staff Reviews
---
This book is not just one thing. It's part scathing feminist diatribe, part tormented confession, part Catfish-style mystery, and it adds up to an incredibly gripping book. Reading it was like falling down the rabbit hole. I picked it up on a whim, expecting a quick read--I wasn't prepared for how close it would keep me! WHO YOU THINK I AM is a novel for people who don't go through life easily, who chafe at the things they can't change and rage against the dying of the light, but who occasionally welcome the distraction of a good book.  
—
Lauren
Description
---
NOW A MAJOR MOTION PICTURE STARRING JULIETTE BINOCHE

This psychological thriller dissects online relationships, offering a stunning indictment of the way society perceives women in contrast to men when age comes into play.

This is the story of Claire Millecam, a forty-eight-year-old teacher and divorcée who creates a fake social media profile to keep tabs on Joe, her occasional, elusive, and inconstant lover. Under the false identity of Claire Antunes, a young and beautiful twenty-four-year-old, she starts a correspondence with Chris—pseudonym KissChris—which soon turns into an Internet love affair.

A Dangerous Liaisons for our times, Who You Think I Am exposes the disconnect between fantasy and reality. Social media allows us to put ourselves on display, to indulge in secrets, but above all to lie, to recreate a life, to become our own fiction—magnifying and manipulating the double standards to which older women are held when they refuse to give up on desire.

Simultaneously sensual, intellectually stimulating, and utterly relevant, this page-turner will stick in your mind long after reading.
About the Author
---
Camille Laurens is an award-winning French novelist and essayist. She received the Prix Femina, one of France's most prestigious literary prizes, in 2000 for Dans ces bras-là, which was published in the United States as In His Arms in 2004. She lives in Paris.
 
Adriana Hunter studied French and Drama at the University of London. She has translated more than fifty books including Nelly Alard's Couple Mechanics and Eléctrico W by Hervé Le Tellier (winner of the French-American Foundation's 2013 Translation Prize in Fiction). She won the 2011 Scott Moncrieff Prize, and her work has been shortlisted twice for the Independent Foreign Fiction Prize. She lives in Norfolk, England.
Praise For…
---
"Told through documents including depositions, transcriptions, and novel fragments, Laurens's (In His Arms) intricate and cerebral novel explores the construction of identity and the politics of age, gender, and desire… Laurens crafts the novel's nested secrets meticulously, producing tricky and thought-provoking surprises until the very end." –PUBLISHERS WEEKLY
 
"Readers might think they know where the plot is going, but Laurens uses several sly shifts in perspective to upend the story as she questions the nature and longevity of female desire and desirability in this timely and astute novel." –BOOKLIST
 
"Do novelists construct avatars to clarify and shroud the truth simultaneously? Do we all? Prix Femina award winner Laurens (In His Arms) deftly investigates these questions…a well-constructed example of literary/commercial crossover that will prickle readers."  –LIBRARY JOURNAL
 
"A harrowing and challenging book that questions the nature of control in an age of digital obsession…exploitative and haunting…Laurens, as translated from French into English by Adriana Hunter, excels at creating an at once expansive and hyperfocused narrative. The reader gets the sense they are watching a caged animal, both observing and forcing her to be observed. The line between willingly giving up her story and being forced to is thin, and as Claire vacillates between reveling in the opportunity to explain and feeling cornered, the reader's role shifts from audience to antagonist. Combined with the plot's twists and turns, the net effect is a complex interrogation of the place of women in society—and the role of social media in giving us the illusion of control." –WORLD LITERATURE TODAY

"In this ingenious and intelligent novel, Camille Laurens revisits, like a virtuoso in the virtual world, a romantic encounter." —ELLE (France)
 
Who You Think I Am—Le Monde des livres
 
"Camille Laurens enjoys exploring love, especially the foreplay and the fallout." —Le Figaro littéraire